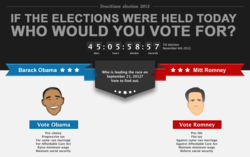 Los Angeles, CA (PRWEB) September 25, 2012
LiveCitizen.com, a social debate site focused on politics, current events and social issues, launched today a new poll tracking the race for the seat of the presidency between Barack Obama and Mitt Romney.
Included in the new poll release is a map of the United States that surveys which states support Romney or Obama by displaying the correlating color of red or blue, respectively. Also included is a graph showing the race by calculating the daily votes of the very politically active LiveCitizen community.
A unique aspect of LiveCitizen's daily poll is the inclusion of directly answering the question of who would get your vote if the election happened that day. Quotes and comments are the core of LiveCitizen's content that focuses on a wide spectrum of issues and topics important to all citizens. For those who don't hesitate to offer their opinions on the matter, there is a comment box available to dive right into the discussion.
In case any prospective voter is still undecided about who to vote for, a short quiz will be available to help determine who the vote should actually go to dependent on agreeing or disagreeing on the various stances each candidate holds.
Votes for the candidates are open to the public and can vote once a day everyday until the actual day of election, November 6.
To cast your vote, please visit the new Obama and Romney vote page here.
LiveCitizen.com is a project of Advanced Video Communications, Inc (AVC). Headquartered in downtown Los Angeles, AVC specializes in Video Chat, Rich Media and eCommerce systems utilizing cutting-edge technology and advanced development techniques. AVC provides online meetings, Web and video conferencing services to companies of any size.