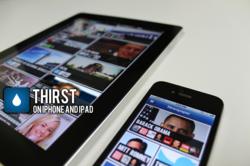 "Based on what we have learned, Thirst Labs should appeal to a wide consumer user base." – Vab Goel, partner, Norwest Venture Partners (NVP)
San Francisco, California (PRWEB) September 24, 2012
Thirst Labs, provider of the leading mobile application that transforms the Twitter experience, announced that today it is the winner of the Judges' Choice award at GigaOM's Mobilize 2012 LaunchPad event. Thirst Labs beat out eight of the industry's most promising mobile startups in an onstage competition that showcased the robust proprietary Natural Language Processing technology behind the company's popular mobile app, Thirst.
The judging panel, which was comprised of leading venture capitalists from Sequoia Capital, Norwest Venture Partners (NVP) and Shasta Ventures, praised the Thirst app for its broad user appeal. During its LaunchPad presentation, Thirst Labs demonstrated a customized Mobilize 2012 content channel built using Thirst's Featured Newspaper tool, giving attendees a unique way to discover and view shared content from the event.
The Thirst app searches millions of tweets in real time and organizes them by topic to ensure a complete, current and relevant information stream. Thirst is currently available as a free download for both iPhone and iPad. Thirst Labs has plans to release an Android version of the application, as well as expand its reach beyond Twitter to include shared content from other online sources.
Thirst is the only app that allows users to engage in Twitter on their own time, collecting, reading and responding to tweets that are relevant to them. More than 340 million tweets are posted per day, and an estimated 55% of Twitter users share links. However, 70% of tweets receive no response from followers, and updates are easily missed if users are not constantly connected to Twitter. To solve this problem, Thirst transforms information from Twitter and other social channels into an organized, relevant information stream so users can stay up to date on the content they care about.
Quotes:
"This year's Mobilize conference showcased the importance of powerful technology in driving new mobile applications. Thirst Labs is honored to be recognized as a leader in advancing rich mobile experiences for consumers." – Anuj Verma, CEO, Thirst Labs
"This year's LaunchPad companies offered a compelling mix of enterprise and consumer solutions. We are excited by many companies that fill a meaningful need in the market and have the potential for significant scale. Based on what we have learned, Thirst Labs should appeal to a wide consumer user base." – Vab Goel, partner, Norwest Venture Partners (NVP).
Resources:
Download Thirst app
Thirst Labs Images and Screen Shots
About Thirst Labs
Thirst Labs transforms the Twitter experience, turning Twitter into an organized, relevant information stream. Thirst Labs was founded by Anuj Verma and Kunal Modi, UC Berkeley graduates specializing in UI, UX, algorithms and architecture. Winner of first prize at the 2012 SXSW Accelerator Competition in the social category, the company's investors include BlueRun Ventures, Steve Newcomb, and Jason Krikorian. Thirst Labs is headquartered in San Francisco, Calif. For more information, visit thirst.co.