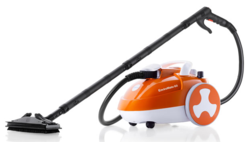 Using ordinary tap water, the EnviroMate GO E20 is an easy solution to cleaning grout.
Lake Forest, Illinois (PRWEB) September 22, 2012
1-800-GO-VAPOR.com, a leading nationwide marketer of quality-built steam vapor systems and a company that promises to "change the way people clean," today announced the availability of the EnviroMate GO E20 steam vapor system from Reliable Corporation. The powerful, Italian made steamer comes standard with an assortment of brushes ideal for cleaning and disinfecting shower and bathroom grout without the toxic fumes and chemical risks of traditional cleaners.
"Grout cleaning is one of the most labor intensive jobs you do when cleaning your bathroom," says V. K. Dunlop, 1-800-GO-VAPOR.com vice president. "You probably wear latex gloves and safety goggles, and keep the window open to avoid the fumes. Most of the time the results are disappointing, and many times the surface you are cleaning is harmed."
Using ordinary tap water, the EnviroMate GO E20 is an easy solution to cleaning grout. This marvel of technology gets rid of mold, mildew and soap scum effortlessly without chemicals and dangerous toxic odors. And without degrading or discoloring the surface of what is being cleaned.
"So why are you still scrubbing with a stiff brush and an abrasive chlorine bleach solution?" asks Dunlop. "You're putting your health and the surface of what you are cleaning at risk. Just add tap water to the GO E20, plug it in and watch the ghastly stains disappear."
Located in Lake Forest, Illinois, 1-800-GO-VAPOR.com is moving fast to educate consumers and businesses that finally, there's a feasible, environmentally friendly alternative to chemicals. With customers in every state in the nation and seven foreign countries, the company maintains an A+ rating with the Better Business Bureau and markets Reliable, Vapamore and Ladybug steam vapor sanitization systems. For more information, call 1-800-468-2767. 1-800-GO-VAPOR.com is a proud member of the Safer Chemicals, Healthy Families coalition, a nationwide effort to protect families from toxic chemicals. To stay safe and avoid toxic chemicals, keep abreast of the latest news with 1-800-GO-VAPOR.com's Twitter account, @1800GOVAPOR.