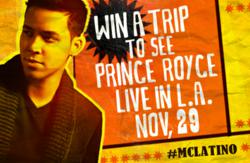 New York, NY (PRWEB) September 24, 2012
Music Choice wants to send you and a friend to see Bachata/ Pop/R&B singer PRINCE ROYCE perform live in Los Angeles November 29, 2012 at the Nokia Theater. The sweepstakes takes place now through October 1, 2012 in celebration of Hispanic Heritage Month.
To enter, visit the Rep Your Flag Sweepstakes tab now through October 1st at http://www.facebook.com/MusicChoice Click on the sweepstakes tab on the top and complete the entry form. Grand Prize Winner will be chosen randomly and receive receive a pair of tickets to the show and the opportunity to meet Prince Royce. In addition, Music Choice will provide roundtrip airline tickets, hotel accommodations and ground transportation.
Additionally, consumers are encouraged to upload photos and videos to Music Choice's social media platforms like Facebook, Twitter, Instagram and Viddy displaying their country pride with the hashtag #MCLatino.
For more information visit: http://www.facebook.com/MusicChoice