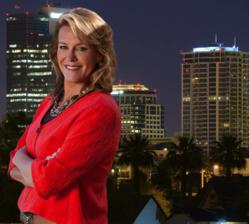 Arizona is one of the best locations for entrepreneurialism in the United States
PHOENIX, AZ (PRWEB) September 21, 2012
Live Out Loud, Inc announced today that the next stop on the Millionaire Makeover Tour will be Phoenix, Arizona. The Millionaire Makeover Tour features a compelling presentation from five-time bestselling author and critically acclaimed speaker, Loral Langemeier. The no-cost event will take place on September 27, 2012 from 9:00 a.m. to 1:00 p.m. at the Crowne Plaza Phoenix Airport (4300 East Washington Street Phoenix, AZ 85034). The Millionaire Makeover Tour is designed to teach you how to make money in any economy. Langemeier has created hundreds of millionaires using the strategies and tactics she will be sharing at this FREE event. Get your seats now!
"Arizona is one of the best locations for entrepreneurialism in the United States, said Langemeier. According to a recent survey by the Global Entrepreneur Indicator, Arizona-based entrepreneurs are experiencing more growth and revenue increase than the global average. But what's most telling is that an amazing 85 percent of local entrepreneurs said they would start a new business. That's hot – hot –hot!"
With such strong indicators coming out of Arizona, it is the perfect time for aspiring entrepreneurs to start a new business and free themselves from economic hardship. The Millionaire Makeover Tour teaches people the skills they need to create their own 'cash machines' and become successful entrepreneurs. For current business owners Langemeier promises to explore her 'magnetic marketing techniques' which guarantee to help your business expand and continue to make money. Seating is limited, Register now!
While she is most recognized for her books and numerous media appearances (she has appeared on many television programs including The View and Dr. Phil) Langemeier is also a tremendously successful entrepreneur. She is a true American "rags-to-riches" story, having grown-up on a farm to becoming the founder and CEO of her own global enterprise, Live Out Loud Inc. The Millionaire Makeover Tour attendees can be sure to learn her secrets to success and the tools they need to do the same.
Langemeier is author the of five national bestselling books; The Millionaire Maker, The Millionaire Maker's Guide to Wealth Cycle Investing and The Millionaire Maker's Guide to Creating a Cash Machine for Life, Put More Cash In Your Pocket and Yes! Energy: the Equation to do Less, Make More. Langemeier is widely considered to be today's pioneering money expert. For more information on, The Millionaire Makeover Tour event, please visit: Millionaire Makeover US Tour