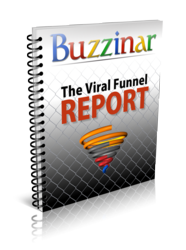 If you think you're leaving money on the table or if you're losing customers to the competition, then check out this course today.
Scottsdale, AZ (PRWEB) September 22, 2012
After a wildly popular webinar, Omar Martin is planning to close the doors to his Buzzinar program so he can service existing customers.
Buzzinar is a collection of software, Wordpress themes, email templates and training to help business owners increase their sales to customers by improving or redesigning their existing sales funnels.
Not selling as much as possible to existing customers who would happily buy your products and services is a major problem for most companies according to many experts, including marketing legend Jay Abraham.
Buzzinar is designed to help any marketer or business owner design a sales funnel that filters out the freebie seekers while selling as many front-end, mid-range and high-ticket back-end products as possible to current and future customers.
"With a well-designed sales funnel, you can be in front of your customer when they are ready to buy what you are selling instead of losing them to the competition." said Ayers of BuzzinarReviews.com.
Martin has included a number of bonuses with the course, including a viral social media plugin that encourages visitors to share on Facebook in exchange for a free report or video.
Despite the concerns of some, one doesn't need a list to get solid results from the course. Martin goes in-depth into the importance of list building and how to build a list using free traffic and paid traffic.
Move information about the course can be found on the official site here.
Those interested in a review of the course can visit: http://www.BuzzinarReviews.com