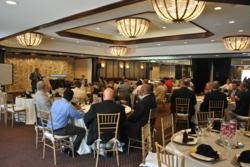 Houston, Texas (PRWEB) September 21, 2012
One Stop Green hosted a successful Third Quarter Lunch and Learn on September 18th with Bovay Engineers International at Bella Elegante in Downtown Houston on the topic of Sustainability & Value Design Engineering. The Lunch and Learn concentrated on Upcoming Projects & City of Houston Requirements for LEED buildings, new products commercial buildings can't afford to be without, how to get the most return on investment out of your schematics, how to earn more LEED points and produce significant long term savings for your projects, and finally sustainable designs that municipalities find most beneficial.
Speakers included Richard Vella, City of Houston's Chief of Design & Construction who talked about upcoming projects for the City. Lisa Lin, LEED AP, City of Houston's Sustainability Manager who talked about City of Houston Requirements for LEED Certified Buildings. Calvin Roberts, Director at Centerpoint Energy, who discussed the importance of energy efficiency in commercial buildings, Andrew Fuselier from Gridpoint Energy, who examined how to get the best return on investment by integrating renewables into your schematics, and finally, Don Noot, Director at One Stop Green who demonstrated next generation ActiveLED lighting and other products commercial buildings can't afford to overlook.
One Stop Green, LLC facilitates environmentally friendly improvements to residential and commercial properties through distribution of green, energy efficient products and services. They offer every product needed for sustainable energy independence enabling homeowners, businesses and commercial property owners to master their usage by reducing waste and implementing efficient energy consumption methods. Their goal is to provide user friendly and practical long-term solutions to existing inefficiencies and their carefully selected products and professional installers offer a higher level of satisfaction and service for their customers.
Contact:
Nathan Kaufman
http://www.OneStopGreen.com
P: 877.449.9110|O: 713.541.2739|C: 210.846.5900
###