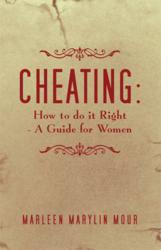 Ontario, Canada (PRWEB) September 23, 2012
Cheating is a very touchy topic and an act that we are brought up to believe is only committed by the unethical and selfish. The word has never had a socially positive connotation nor is 'cheater' an adjective ever listed under 'characteristics wanted in a partner'. It implies dishonesty and is usually the fastest way to induce a lack of trust. Yet it is remarkably common. Not just amongst men but rather affluently amongst women as well. The reasons spread over a large spectrum that range from physical and emotional needs, boredom and curiosity, to fear of having made the wrong choice of life partner.
In her new book titled CHEATING: How to do it Right – A Guide for Women, author Marleen Marylin Mour looks at cheating from a fresh perspective. One that spends less time focusing on the perceived 'victim' and more time empathizing with the 'perpetrator' – the indistinct victim - and what pushes them to seek sexual or emotional gratification outside of their relationship. Taking a liberal and somewhat utilitarian approach, Mour urges readers to discard of societal expectations, decide for themselves if cheating is 'good' or 'bad' and ultimately retain the power to do what's best for them.
With a 2006 study revealing that 72% of men and 68% of women in the USA say they would cheat if they would never get caught, Mour believes that the question of whether cheating is considered 'good' or 'bad' is irrelevant. At the end of the day, it appears people have their reasons, desires and justifications.
As a manual on how to break the average rules in order to live an unconventionally fulfilling life Mour offers women an insightful step-by-step guide on how to become an expert at indulging in secret 'naughty' play while limiting the chances of their questionably long-term partner getting hurt. The book shares, not the typical tips on how to compromise and settle in a relationship, but rather tips on how to be a little more selfish in life; how to seek answers and live a thrilling and sexually fulfilling life without the judgment of the envious and complaisant.
Mour emphasizes that long-term, committed relationships are highly valued and celebrated. Based on interviews, however, few women are confident enough in their choice of partner to anticipate a satisfying, long-term relationship. These women are torn between the fear of settling and the fear that searching for sexual fulfillment elsewhere will drive their partner into depression, self-pity and anger.
CHEATING: How to do it Right- A Guide for Women is written to eliminate these fears, to define one's own right and wrong reasons to cheat and help bulletproof one's strategy - should they decide to cheat. After all, 'it's your life, your future, your choice'.
For more information, log on to http://www.Xlibris.com.au.
About the Author
Marleen Marylin Mour, currently lives between Toronto, Canada and Sydney, Australia. Brought up in a very conservative and repressive culture, Mour ran away to Australia at the age of 19 after feeling suffocated by radical religious and cultural expectations. Immersed in significantly different culture, but still feeling the constraints of societal expectations, Mour encourages living an unconventional life.
CHEATING : How to do it Right- A Guide for Women * by Marleen Marylin Mour
Publication Date:July 27, 2012
Trade Paperback; $29.99; 148 pages; 978-1-4771-1404-9
Trade Hardback; $49.99; 148 pages; 978-1-4771-1405-6
eBook; $3.99; 978-1-4771-1406-3
Members of the media who wish to review this book may request a complimentary paperback copy by contacting the publisher at 1-800-618-969. To purchase copies of the book for resale, please fax Xlibris at (02) 8282-5055 or call 1-800-618-969.
Xlibris books can be purchased at Xlibris bookstore. For more information, contact Xlibris at 1-800-618-969 or on the web at http://www.Xlibris.com.au.