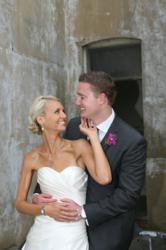 Just wanted to say a big thank-you for doing my hair and make-up for my wedding day (30/10/10), I was really appreciative of how calm you were, made me relax and have a laugh. My hair and make-up was stunning-I have never felt so beautiful... Erin
Melbourne, Victoria (PRWEB) September 26, 2012
Weddings are expensive, and many brides tend to test out several hair and makeup companies and salons, sometimes spending several hundred dollars in their search for the ideal look. It is important not to concentrate only on price when it comes to choosing the best hair and makeup artist. Find a company which can offer you a service which is both mobile and gives you the sense of ease.
"It is important that brides feel comfortable on their wedding day and the person who is there to help that the most is the hair and makeup artist, as they have the experience of what to expect" says Caroline Balinska from Forever Flawless.
With so many horror stories of bad experiences, it can be understood why some brides are hesitant in choosing a hair and makeup artist. Luckily with review sites popping up, it is easier to find feedback about certain bridal hair and makeup companies.
This week Forever Flawless launches its new Yelp listing. Now brides can see a range of testimonials from many clients and research all options.
Bride's testimonials speak for themselves:
"A big, big thank you to Vanessa and the team," says Jasmin Carrington of Mornington. "You all did such an amazing job with the hair and makeup on 30 January 2010. You made me look radiant, flawless, natural, and the makeup lasted the whole day despite the 35 degree heat," she writes. "The hair style of the bridesmaids was absolutely beautiful. My mum and mother-in-law were amazed by their makeup. I also loved the fact that we could have a normal chat with you while getting ready. Getting ready felt so much more comfortable with you around. I will recommend you to all of my friends who are getting married soon."
Forever Flawless, has a small team of highly qualified hair and makeup artist who all work within the industry full time. Including Special events like Fashion Week, The Logies, TVC, Film, Commercial and Fashion. As each artist has over 10 years experience and provide exceptional service.