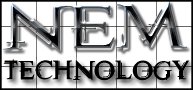 Grand Rapids, MI. (PRWEB) September 24, 2012
NEM Technology and NetClarity have partnered to deliver a presentation titled "You Have Your Firewall…But the Hacker Threat is Already In Your Office a/k/a the Killer is already in your house" at midwest hacker and security conference. The presentation, to be co-delivered by Hal Charney, President and CEO of NetClarity and Lary Holland, President and CEO of NEM Technology discusses network security from the inside to the edge. The title of presentation aims to bring to light the need for security professionals to manage security inside the firewall where a corporation's data resides as much as preventing outsiders access to the inside at the edge.
GrrCON is an information security and hacking conference being held in the Midwest September 27th and September 28th, 2012. This conference was put together to provide the midwest regional information security community with a venue to come together and share ideas, information, solutions, forge relationships, and most importantly engage with like minded people in a fun atmosphere.
"Having a firewall to protect your network isn't enough anymore, and many I.T. staff are ill-prepared to handle the number of rogue devices that staff, visitors, and guest network users may bring to the network" states Lary Holland. "The security discussion needs to shift to users bringing tablets, smart phones, and other devices from home and personally I am glad to see the conversation taking place in Michigan."
About NetClarity, Inc.
NetClarity is privately-held and is the leading of integrated internal security solutions today, serving mid-market businesses. Our passion to deliver the world's easiest-to use, fastest, most powerful, and cost effective NAC technology, which in turn fuels our growth through strong market demand. NetClarity's NACwall appliances, leveraging the company's groundbreaking and patented Inside-Out Network Security™ technology, provide the most proactive approach to internal intrusion defense in the entire industry. NetClarity is headquartered in Bedford, MA with offices and partners throughout the world. For more information, visit us at http://www.netclarity.net.
About NEM Technology
NEM Technology is a privately held company that partners with leading computer, networking, telecommunications, and security companies to provide the best in telecommunications, networking, surveillance, and business technology services. Believing in the power of partnership, the company's mission is enshrined with the philosophy of "keeping you connected to everything." NEM Technology is headquartered in Oscoda, MI competing globally while operating locally. For more information contact their offices at 989-739-2177 or visit them at http://www.nemtechnology.com.