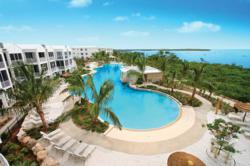 These October events really exemplify what makes the Florida Keys unique, so we are pleased to offer a special discount of up to 50 percent off our normal rates
Key Largo, Florida (PRWEB) September 25, 2012
This October, KeysCaribbean Luxury Resort Villas & Marinas is offering three tempting reasons to enjoy the perfect getaway and save while in the Florida Keys: "The Longer You Stay in Paradise, The More You Save" special discount offers a lower nightly rate for each additional day booked; guests can receive a generous up to 50 percent off rates or free night stays at all KeysCaribbean luxury resorts all season; and a 100 percent cancellation guarantee.
The Florida Keys showcase many unique and exciting events in October, including a 10-day fantasy fest, challenging fishing competition, and a fun festival celebrating swashbucklers .
For a great Keys fishing tournament, check out the Publix Mad Dog Mandich Fishing Classic in Islamorada Oct. 5-6. Fill up the boat with the greatest cumulative weight of the tournament's target species and receive a $5,000 cash prize. This fun-filled weekend will feature an array of fantastic parties, food, drink and cash prizes. Nearby, Coral Lagoon Resort Villas & Marina and Indigo Reef Resort Villas & Marina in Marathon, and Village at Hawks Cay Villas & Marina in Duck Key offer luxury Florida Keys accommodations with free Wi-Fi Internet and free unlimited local and long distance calls. Both resorts also offer the up to 50 percent special discount or a free night with a minimum stay of three nights at Village at Hawks Cay or five nights at Indigo Reef.
Avast, ye mateys! The Key Largo Pirates Festival returns Oct. 18-21 with pirate-themed events including costume contests, walk the plank, rum tasting, booty hunt, pirate show, thieves market, underwater poker and more. Swashbuckling spectators are invited to unleash their inner buccaneer during the festivities. Nearby, Mariner's Resort Villas & Marina offers luxury Key Largo accommodations, free Wi-Fi Internet, free unlimited local and long distance calls, the up to 50 percent off special discount and every fourth night free with a minimum three night stay.
From Oct. 19-28, the city of Key West will come together for the 33rd Annual Fantasy Fest. This year, the outrageous 10-day event will be themed "A Conch-Alypse" and will feature thousands of people and diverse events that include costume competitions, promenades, street fairs, and a grand parade with marching groups and lavish floats. Attendees can enjoy first-rate Key West accommodations at Coral Hammock Resort and King's Pointe Oceanside Condominiums, where a free night with a four night minimum stay or up to a 50 percent discount is offered.
"These October events really exemplify what makes the Florida Keys unique, so we are pleased to offer a special discount of up to 50 percent off our normal rates, as well as our free night stay packages," said Sam Schorr, KeysCaribbean managing director.
Discounts are subject to availability. Some restrictions apply to the 100 Percent Cancellation Guarantee. Free night stays require minimum night stays, have limited availability and certain restrictions apply. Please see the KeysCaribbean website for more details. For reservations book direct at http://www.keyscaribbean.com or call 305.853.5000.
About KeysCaribbean
KeysCaribbean is a dynamic, boutique resort company specializing in operating Florida Keys resort villas and marinas from Key Largo to Key West. CEO Craig Hunt, the former vice chairman of Intercontinental Hotel Group and past president of Holiday Inn Worldwide, along with managing director Sam Schorr, possess more than 60 years of experience in operating and marketing unique and exclusive destination resorts and marinas.
KeysCaribbean is committed to the Florida Department of Environmental Protection Green Lodging Florida program. Mariner's Resort Villas & Marina is designated as a Green Lodging property by the Florida Green Lodging Program.