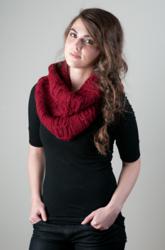 Mayu's 2012 collection of alpaca wool scarves and hats are luxurious and eco-friendly. They make the perfect addition to any winter wardrobe.
Chicago, IL (PRWEB) September 24, 2012
Chicago-based social enterprise, Mayu, recently launched its winter 2012 collection of alpaca wool scarves, hats and accessories featuring high style with thoughtful details including beautiful stitches, edgy designs and both bold and natural colorways to accent any wardrobe. Each Mayu piece is fairly traded and hand-knit by women artisans in Peru using high quality 100% Peruvian alpaca fiber.
Mayu's founder explained the new collection, "As I was designing Mayu's Winter 2012 Collection, I kept in mind that while comfort and style are key, I wanted each piece to pay homage to great design, too. The women in Peru who knit these products are really talented and you can see that in the fine details of each product."
The new styles and colors, such as the burgandy cowl, hooded scarf and slouchy alpaca hat, complement Mayu's already popular pieces including alpaca fingerless gloves and alpaca throw blankets.
About Mayu:
Mayu is hand-knit, pure Peruvian alpaca goodness -one hundred percent. Mayu is also a member of the Fair Trade Federation and was founded as a result of the founder's experience in the Peace Corps in Peru.
100% pure alpaca. 100% hand-knit. 100% peruvian. 100% good.