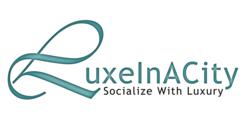 Montreal, Quebec (PRWEB) September 25, 2012
Marking the middle of autumn, October is the perfect month to visit a vineyard on the famous Chianti route through Tuscany, go for a dip with orcas or take a week long train journey across Canada. As a curated list of the best travel destinations, this hand-selected travel guide covers the must-go places, must-see events of October 2012. The below destinations are "LuxeInACity Recommended", therefore approved by a team of world travelers who have visited over 70 countries.
LuxeInACity's Recommended Top 10 Best Travel Destinations for October 2012 are:
1- Serenity in Hawaii, USA (Nature & Relaxation): With perfect weather, crystal blue waters and a vast range of luxury villas, it is no surprise that Hawaii represents nature at its finest. Soothe your senses in one the many luxury spas on the islands, learn to surf to take in some physical relief or get your hands dirty helping out at an organic farm.
2- Touring Fine Wineries in Tuscany, Italy (Food & Wine): Feast your senses on romantic landscapes while tasting freshly picked grapes accompanied with a fine glass of wine. Rent a car or ride your bike through the winding valleys of Tuscany. Enjoy the exquisite cuisine, the stunning architecture rich in history and culture while you learn about the beneficial features of Italian luxury wine.
3- Traveling Coast to Coast, Canada (Journey of a Lifetime): A legendary train ride across a country filled with rugged beauty and wide vistas might be what it takes to take your breath away. This classic train ride takes about a week to complete but could be taken in on a longer journey if one wishes to stop along to way to meet friendly Canadians.
4- Enjoying Views from the Sky in Albuquerque, USA (Family Getaways): A colorful spectacle of soaring hot-air balloon sweeping across the sky is a family must-see event. This annual hot-air festival, taking place from October 6th to October 14th, attracts more then 100 000 visitors a year so make sure to reserve your ride ahead of time.
5- Socializing at Oktoberfest in Munich, Germany (Festivals): The land of beer and festivities, Oktoberfest is a legend of a party. With an estimated 6.5 million liters of golden beer, 500,000 chicken and more than 50,000 pork knuckle served during the festivities, Oktoberfest is messier than the most outrages stag night.
6- Taking in the Autumn Colors in Maine, USA (The Great Outdoors): Enjoy the spectacular fall foliage, ranging from golden yellow to scarlet red, as you hike, kayak or bike your way through the Acadia National Park. Climb up to the top of Cadillac Mountain to be blown away by the dazzling sunset shinning down on a rainbow of colors.
7- Escape at Mafia Island, Tanzania (Luxury & Romance): With fantastic beaches, world-class diving and deep-sea fishing, this tiny cluster of islands off the coast of Tanzania offers the ultimate romantic getaway. Far from the hustle and bustle of everyday life, one can live the ultimate luxury lifestyle.
8- Sail the Whitsunday Islands, Australia (Ocean Escape): With warm weather, cool seas and helpful winds, this chain of 90-plus islands off the coast of Queensland is the perfect October sailing destination. Charter a small yacht or book a bunk on an antique tall ship and take in the fresh salt air while you glide your way from island to island.
9- Go on a Higher Plane in Lhasa, Tibet (Culture & Arts): World-famous for its spiritual connection, Lhasa is literally on a higher plane. Hiding away in the backdrop of the infamous Himalayan Mountains, Lhasa provides the perfect secluded setting to discover rich culture and spiritual freedom from within and from without.
10- Swim with Orcas in Tysfjord, Norway (Wildlife Watching): Yes, you read it right. Head out to Norway at the end of October for a unique swim with this stunning majestic creature. Mid-autumn is the arrival of the migratory herring, bringing hundred of orcas into Norway's Tysfjord. Once on site, you can either choose to stay onboard the zodiac or plunge in for what will probably be the coldest yet most spectacular snorkeling adventure of a lifetime.
What is your best travel destinations for November 2012 or December 2012? Send us your tip at top10@luxeinacity.com.
About LuxeInACity.com
Launched in 2011 and with corporate headquarters in Montreal, Canada and Gothenburg, Sweden, LuxeInACity is an interactive guide to luxury cities from around the world. Providing priceless information to affluent consumers and travelers worldwide, each luxury city guides features a curated list of premium luxury brands waiting to service the bespoke needs of these high net worth individuals. To entertain these affluent consumers in their search, LuxeInACity provides an engaging, comprehensible website with insights on the world of luxury through several media channels, Luxe Blogs, Luxe Videos and Luxe News, and relating to several key luxury categories such as travel, automobiles, yachting, art & culture, fashion, fine jewelry, watches, wine & spirits, hotels, villas and more. LuxeInACity connects luxury consumers with the luxury brands they love through an interactive web platform that facilitates both brand awareness and brand reach. The founders of LuxeInACity.com have traveled to over 70 countries. Visit LuxeInACIty.com