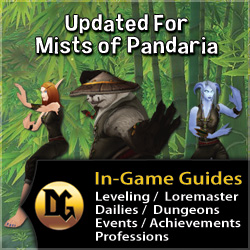 (PRWEB) September 23, 2012
A brand new WoW Mists of Pandaria Monk guide is now available for pre-order prior to the launch of one of the most anticipated expansion of 2012. Dugi Guides, a well known in-game guide maker for WoW, has announced that a new version of Dugi Guides featuring a special WoW Mists of Pandaria Monk Guide along with detailed guides for leveling each and every class to level 90 are now available for pre-order.
Come September 25, 2012, Blizzard will open gates to the most awaited patch in World of Warcraft series called the Mists of Pandaria. Two major features being introduced with this expansion are a new Monk class and increase in level cap to 90.
Leveling a brand new class all the way to level 90 with very little knowledge before hand can be an extremely challenging and a tedious task. To help players shorten the learning curve, Dugi Guides is releasing in-depth, in-game walkthrough teaching players exactly what to do next and where to go next.
This smart guide is an in-game addon which is loaded with all the quests and fastest possible paths to level cap no matter what level a player is or what zone they are in. The quest helper automatically recognizes what would be a suitable leveling path and begins giving directions and tips along the way. This smart guide combined with other guides such as Monk skills and builds guide, is aimed to help any player boost their leveling speed by several times.
For those who are already level 85, Dugi Guides also has strategies for what are the fastest path for power leveling through those last 5 levels all the way to 90. Along with this, Dugi guides offers numerous other benefits making it a must-have by your side during the competitive launch week ahead.Check out WoW Mists of Pandaria Monk Guide for more details.
Another highly recommended item is WoW Mists of Pandaria Collectors Edition. It features a special Art of the Mists of Pandaria art book, a MoP mouse pad, behind the scene DVD/Blu-Ray Discs, and lots more.