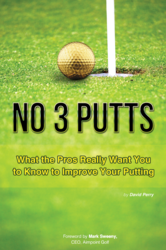 90% of players that come into our shop cannot aim their putter over the hole from 6-feet away - Andy Thompson, Golf Digest Top 100 Club Fitter
Fort Collins, Co (PRWEB) September 25, 2012
The 3 putt is perhaps the most dreaded and embarrassing shot in golf. Even pros are known to throw a club when they 3 putt. While putting is easily 40-50% of the total score, most golfers spend more time on the driving range than the putting green.
"No 3 Putts: What the Pros really want golfers to know to improve putting" contains exclusive interviews, available only in this book, with top rated PGA and LPGA instructors offer a diverse and thorough discussion on putting to help you fully understand:

The true importance of putting
Key factors that limit putting success
Tips and techniques to improve your putting skills
The difference between green guessing and green reading
Why the putter is the most important club in your bag
Top putting drills that will help build and maintain skills
The need for true confidence in your putting
Golfers will benefit from decades of experience from top instructors and over 50,000 lessons given to new golfers up to tour professionals. The valuable insights contained in the book will help golfers understand the dynamics of putting to really improve putting. It is a must have for every golfers library.
Get this e-book now to learn how to avoid 3 putts and improve your game. Free e-book is available only Sept 26-29, 2012 at http://www.amazon.com/dp/B007MOT3ZU.
Signed copies of the printed book are still available at http://www.no3puttsbook.com
No 3 Putts was developed by Dave "No 3 Putts" Perry based personal experience in golf and working with several golf companies, golf pros and industry experts on putting training aids. As an engineer and marketing professional, he has managed marketing programs, including international golf and yachting events.