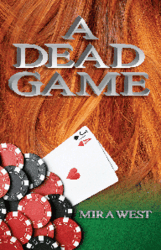 Just as compelling as the story is the author's behind-the-scenes look at casinos and how they operate.
Wakeman, OH (PRWEB) September 25, 2012
Working at the casino known as Paradise Palace is anything but paradise for Jasmine Woods, who discovers dealing blackjack can be a death-defying challenge after meeting the hotel manager, the debonair Frank Pazzarelli. The copper-haired Jasmine Woods is drawn in by Frank's charisma, lured by her hunger for love and unsuspectingly enters his world of corruption in this riveting new novel based on true events.
In "A Dead Game," Jasmine becomes an innocent target in the middle of an insidious rivalry. A gunshot in the casino changes everything as the truth unfolds. Frank, Kingpin and Warlord, must do whatever it takes to protect her, even if it means making a deal with the devil. Things go from mysterious to revolting when Jasmine learns the devil is a woman. Secrets, once revealed, escalate the threat when Frank meets his competition. The author's, behind-the-scenes, depiction reveals more than just how the casino operates.
This is the first full-length novel for author Mira West, who presented her first book at the Children's Book Writers Conference in San Francisco in 1987. She has published two children's books and is a member of Romance Writers of America and The International Women's Writing Guild. Her experience in the casino business inspired "A Dead Game." West, born in Houston, Texas, embarked upon her diverse life showing Arabian horses at her ranch in Missoula, Montana.
----------
For additional information, please visit http://www.mirawestnovelist.com.
A Dead Game
Mira West
Dog Ear Publishing
ISBN: 978-1-4575-1278-0 296 pages $15.99 US
Available at Ingram, Amazon.com, Barnes & Noble and fine bookstores everywhere.
About Dog Ear Publishing, LLC
Dog Ear Publishing offers completely customized self-publishing services for independent authors. We provide cost-effective, fast, and highly profitable services to publish and distribute independently published books. Our book publishing and distribution services reach worldwide. Dog Ear authors retain all rights and complete creative control throughout the entire self-publishing process. Self-publishing services are available globally at http://www.dogearpublishing.net
and from our offices in Indianapolis.
Dog Ear Publishing – self-publishing that actually makes sense.