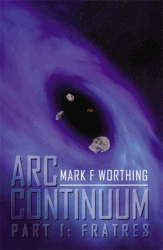 Essex, UK (PRWEB) September 26, 2012
'Arc Continuum' is a stunning and imaginative novel that takes your mind on a roller coaster ride of emotions and invigorates your passion for the science fiction genre. Crafted by Mark F Worthing, this astonishingly creative and well told story is also a study of humanity, containing philosophical, sociological, religious and political insights. It tells of a second chance for mankind, but how the race is genetically hotwired to ultimately repeat an inevitable path to self destruction. It is a parable of ingrained human greed, selfishness and mistrust, contrasted against a greener species.
Earth is dead. Greed, famine, disease and hydro wars have decimated the population. Survivors live around Lakes with dwindling water supplies and society has regressed to a lawless state of 'survival of the fittest'. Two English brothers, refugees from Russia's invasion of Europe, live in the North American 'hydro zone'. One is a soldier; the other, diametrically opposite in character and skills, is a brilliant but eccentric scientist. Both need to police and defend the new world against a chillingly war like, super intelligent and seemingly unbeatable race of multi caste aliens with technology beyond our dreams. But what is the connection with a third brother, a brilliant but flawed man, intrinsically linked to the aliens and who may hold the key to everyone's survival?
Alongside this a chilling tale unfolds during a 750 year interstellar journey for cryogenically frozen members of the alien race. A worker caste alien awakes suddenly, forced to battle an uncontrollable and indestructible warrior alien and attempt to overcome this ruthlessly violent individual before it derails their species' plans.
All streams of this jig saw align in a cataclysmic finale as three sets of diverse species position themselves for the ultimate battle for control of the multiverse series. 'Arc Continuum' is glazed with a descriptive literary style, fascinating characterizations and unique and entertaining concepts. This fast moving story tantalizes the mind, saturates the imagination, challenges your very beliefs and extends the boundaries of science-fiction.
This book will be featured at the 2012 Frankfurt Book Fair in Frankfurt, Germany, on October 10-14, 2012.
For more information on this book, interested parties may log on to http://www.XlibrisPublishing.co.uk.
About the Author
Mark F Worthing, was well educated in Kent (Marlborough House preparatory and Tonbridge schools), where he displayed an 'off the wall imagination' during creative writing. A lifelong science fiction fan himself, Worthing allied this vivid imagination, his love of writing and the sciences, (3 science 'A' levels and a degree in Biology at London University, Chelsea College) and his attention to detail to create this well-researched and exquisitely prepared novel. He is now working on the follow up to Arc Continuum: Part 2 "Bellum".
Arc Continuum by Mark F. Worthing
Part 1: Fratres
Publication Date: August 10, 2012
Trade Paperback; £13.99; 278 pages; 978-1-4653-0719-4
Trade Hardback; £23.99; 278 pages; 978-1-4653-0720-0
To request a complimentary paperback review copy, contact the publisher at +0800-644-6988. To purchase copies of the book for resale, please fax Xlibris at 44-203-006-8880 or call +0800-644-6988.
Xlibris books can be purchased at Xlibris bookstore. For more information, contact Xlibris at +0800-644-6988 or on the web at http://www.XlibrisPublishing.co.uk.