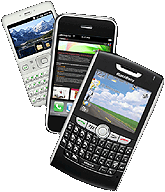 With a significant number of high-end retailers not having addressed website issues in order to better guarantee sales, the potential mobile browsing presents is still very much for the taking.
(PRWEB UK) 25 September 2012
Mobile-enabled websites need to work in conjunction with enhanced usability in order to capitalise on the opportunities that mobile browsing presents, according to experts at leading SEO agency, Mediarun.
Driving traffic is essential, but the overarching objective of successful retail website management is about generating sales and according to research, mobile sales in the UK increased by just 4% between 2011 and 2012. Ensuring websites are mobile-enabled is therefore a vital checkpoint that a number of major retailers are failing to address. However, according to Mediarun, even where this has been incorporated,it will not guarantee sales or even high numbers of visits without marrying it up with enhanced usability, which has to respond to the latest technological approaches to browsing on a range of devices.
Alex Wares, managing director at Mediarun, said: "Increased traffic is all very well, but if navigation and mobile access issues are not addressed in parallel with improving user experience, competitors can easily steel the limelight when it comes to sales. Taking this dual approach can therefore make or break conversion rates, which naturally overrule mere visits or other engagement metrics."
The traditional method, where navigation is a fixed, one-size-fits-all approach, has been superseded by, amongst others, responsive design where all that is displayed is content that fits the real-world size of the device. Responsive design is just one of many possible approaches that require careful consideration as, in order to tailor display and content for individual interfaces, the formula has to be right first time and should promote increased engagement.
"We are at a crucial tipping point, where some retailers are beginning to appreciate and capitalise on the benefits of responsive design. This route, however, cannot be taken on a whim. Engagement is the overarching objective, so the package of content decided on for each device needs to demonstrate that it can drive conversion rates, and specialist advice is often required.
"With a significant number of high-end retailers not having addressed website issues in order to better guarantee sales, the potential mobile browsing presents is still very much for the taking."