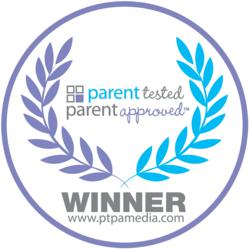 Seeing the PTPA Winner's Seal on a product package or website helps consumers identify products that have been tested and recommended by other consumers. It's like shopping with your best friend
Toronto, ON (PRWEB) September 25, 2012
Dive into Fall this year by checking out all the cool new products being released this season! The PTPA awards program helps connect families with the latest and greatest products like the new Skylanders Giants game for PS3 and Xbox 360, PowerBand Workouts by Hour of Power and unique games like Eat to Win.
PTPA Media has North America's largest testing community – a credible third party resource for consumers with over 60,000 volunteer testers.
"Seeing the PTPA Winner's Seal on a product package or website helps consumers identify products that have been tested and recommended by other consumers. It's like shopping with your best friend," says PTPA Founder and CEO, Sharon Vinderine.
Since 2008, PTPA has evaluated thousands of products and services from leading manufacturers and emerging brands. Because independent parents evaluate these products in their own homes, PTPA winners are chosen based on merit and consumer experience – not on commercial considerations.
PTPA Media has become a recognized source by the media for credible and reliable recommendations for their audiences. Recognized TV personality, PTPA Founder and CEO Sharon Vinderine has presented PTPA Award winners on over 70 morning shows including the Rachael Ray Show, Fox and Friends, Canada AM and Global.
Here are just a few of the innovative new products to receive the PTPA Winner's Seal of Approval for their most recent 2012 campaigns:
Sears Canada's The Baby's Room: Visit these newly updated departments in Sears stores across Canada for amazing selection, brands, and overall shopping experience.
Kernels Popcorn: Whether shopping in the mall and need something to keep the kids occupied, in need of a treat or need a great gift, grab delicious, fresh, gourmet popcorn!
SunRype Coco Water and Smoothies: Quench that thirst with these two new amazing drink options from SunRype! Delicious flavors have been combined to make uniquely satisfying tastes.
FamilyStickers.com: Keep seeing those adorable stickers of families on cars and want them too? Familystickers.com are adorable and durable and come in so many versions, you're sure to find the right one for your family!
FirstBIKE: This is the perfect training bike! These well-built balance bikes are ideal for helping children develop balance and motor skills necessary for "big kid" bikes.
Norton 360 Everywhere: No matter the device being used, whether a PC, a Mac® or an Android™ smartphone or tablet, this system by Symantec has it's security covered!
Additional exceptional award-winning products this Fall include the Shark Teeth Dig Kit by Discover with Dr. Cool, Cake Lingerie's Cotton Candy Luxury Seamless Maternity/Nursing Bra and Brief set, Exxel Outdoors licensed 4' x 3' Indoor-Outdoor Tents, incredible Adventure Parties by Pump It Up, the Real Life Tutoring Program and several amazing products from Discovery Kids including their Eco-Friendly Colour and Play House, the Constellation Projection Firefly Light, the soothing Animated Marine Lamp, the Activity World Map and the incredibly fun 3-in-1 Balloon Pumper.
For a complete list of award winners, visit the Fall 2012 section on their newly updated website.
About PTPA Media Inc.
PTPA Media provides an objective framework for appraising and promoting new products designed to enrich family living. The company's mission is to marry innovative companies with discerning consumers, to improve consumer access to quality products and services for their families and homes.