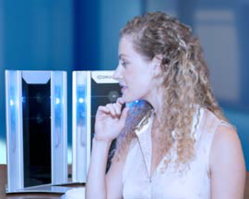 Alma Lasers will be the first company in its industry to offer an advanced and competitive 3D imaging platform.
Buffalo Grove, IL (PRWEB) September 26, 2012
Alma Lasers, a multi-national developer of advanced medical aesthetic equipment, announced today an exclusive distribution agreement with 3D imaging developer Orscan Technologies Ltd. Under the terms of the agreement, Alma Lasers will distribute the ClearVision3D imaging workstation to its clientele of dermatologists, plastic surgeons and other medical aesthetic practitioners.
ClearVision3D is a 3D imaging platform that allows medical aesthetic practitioners to provide patients with high quality 3D imaging that accurately captures improvement following aesthetic procedures. As patients who undergo aesthetic procedures are increasingly demanding evidence of treatment success, the solution which ClearVision3D provides confidence to patients that the practitioner will meet their expectation.
ClearVision3D's high definition cameras and specialty filters bring aesthetic medicine to the next level by capturing not only the top layer of skin, but also that which is happening under the skin. Practitioners can now offer their patients additional treatments by viewing together pigmentation, vascular lesions and imperfections in skin tone which are still not visible to the eye, deciding on the appropriate action, and then performing a follow-up image to assure treatment success.
Dr. Ziv Karni, Alma Lasers Founder & CEO, explained the benefits of this strategic agreement, "Alma Laser's mission has always been to provide dermatologists and other medical aesthetic professionals with the widest range of advanced technologies. Today's professionals are finding more often the need for accurate documentation of their patient's progress throughout the treatment, and by offering the ClearVision3D imaging system along with our industry proven lasers and other aesthetic technologies, Alma Lasers will be the first company in its industry to offer an advanced and competitive imaging solution that is so crucial for the success of our clientele."
About Alma Lasers Ltd.
Alma Lasers is the leading provider of innovative medical aesthetic technologies. Alma Lasers is recognized by industry practitioners for its whole-hearted commitment to providing complete solutions to professional practices.
Alma Lasers offers innovative technologies, dependable equipment, knowledgeable sales staff, and years of industry expertise. We seek the creation of a strong and lasting relationship with our doctors and aesthetic clinics based on trust and a genuine desire for the success of the practice.