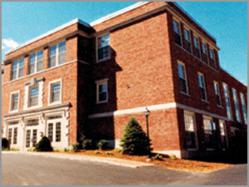 The Meetinghouse at Goffstown is a very special property to my family and me... It's really an extraordinary relationship.
Goffstown, NH (PRWEB) September 26, 2012
Finlay Management executives returned to NH recently to celebrate the 15th anniversary of the award-winning Meetinghouse at Goffstown, a senior property that opened exactly 15 years ago this summer.
The property had been an abandoned school before it was completely renovated in 1987 by Finlay Development, LLC. Using Historic Tax Credits, a CDBG grant, and Low Income Housing Tax Credits, Finlay created a 39-unit senior housing community with common area space to accommodate Visiting Nurses and Meals on Wheels. It was subsequently awarded the Silver Star for Best in Affordable Senior Housing by the National Association of Home Builders. Finlay Management, Inc. has been the management agent.
During the anniversary reception, residents dined on lobster rolls and wine, including a champagne toast.
As Finlay personnel recognized the six remaining original residents with bouquets of roses, the residents reminisced about the origin of the school. Several had been students there and found themselves now living in the principal's office, or in the former gym, or as one admitted, in the boys' bathroom. Others recognized the original slate blackboards and library lights that had been salvaged from the original building.
Says Christopher Finlay, developer of The Meetinghouse and CEO of Finlay Management, "The Meetinghouse at Goffstown is a very special property to my family and me. We were on site during the first months and personally monitored the lease-up. We know the residents and their families; we have attended celebrations and funeral services. It's really an extraordinary relationship."
A few years ago, Finlay sold the property to AHI Goffstown, LLC, an entity owned by his son, Rob. Says Finlay," We feel comfortable that the residents will continue to enjoy the same attention that they have always known at the Meetinghouse." Finlay Management, Inc. continues to be the management agent.
Finlay Management, Inc. AMO® is a multifamily property management firm with a thirty-year history in market-rate/luxury apartments, affordable housing, and senior living. With offices in Texas and Florida, it focuses on fee management throughout the Southeast and Texas. The company is actively expanding and seeking third-party management opportunities. For more information, visit http://www.finlaymanagement.com
The Institute of Real Estate Management (IREM®), the leading international real estate management organization, has designated Finlay Management, Inc. as an Accredited Management Organization (AMO®). The coveted credential signifies the highest professional standards in the industry. Only 550 firms in the U.S and Canada have qualified for this designation.