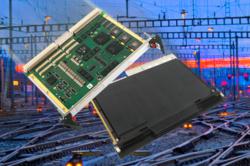 Ambler, PA (PRWEB) September 24, 2012
MEN Micro Inc., a world-renowned provider of embedded computing and I/O solutions for mission-critical industrial, mobile and harsh environment applications, now offers a certification package up to SIL 4, the highest level for safety-critical railway functions, for its triple redundant single board computers (SBCs).
Up until now, no standard components for railway applications have been developed beyond SIL 2. Systems requiring higher SIL levels were typically customer-specific developments.
The new package facilitates easier evaluation and authentication of an overall system used in critical railway applications by combining important elements of certification into one concise package.
Available as the 6U VME A602 or the 6U CompactPCI D602, the SBCs are both COTS and FPGA-based. These design features reduce system integration and development issues, saving costs and time to market. The boards use a lock-step architecture that runs the same set of operations in parallel, so hardware components are viewed only once in the programming, reducing software costs as well.
The processors, main memory and internal FPGA structure are triple-redundant. Adding the dual-redundant power supplies, Flash banks and clock oscillators to the SBCs offers extraordinary reliability. This design frees up system space by eliminating the need for additional SBCs to achieve this level of redundancy and saves on power requirements, reducing heat generation.
The standard certification package enables complete system certification according to EN 50126 and EN 50129. It includes a comprehensive user's manual with specific safety information relevant to railway operations, the safety case that describes safety and quality concepts to meet requirements up to SIL 4, and a test report complete with a certification from TÜV Süd (German Technical Inspection Agency).
If needed, the package can be adapted to specific application requirements, with additional support by MEN Micro to ensure an easy integration and certification process.
For additional information, visit http://menmicro.com/newsmail,120903,128788 or contact Stephen Cunha, MEN Micro Inc., 24 N. Main Street, Ambler, Pa. 19002; Phone: 215-542-9575; Fax: 215-542-9577; E-mail: Stephen(dot)Cunha(at)menmicro(dot)com.
For high res download and full text:
http://www.simongroup.com/PressRoom/press-release.php?Job=MEN-A-5885
# # #
READER SERVICE INQUIRIES: Please forward all reader service inquiries to Stephen Cunha, MEN Micro Inc., 24 N. Main Street, Ambler, Pa. 19002; E-mail: Stephen(dot)Cunha(at)menmicro(dot)com.
About MEN Micro Inc.
Since its inception, MEN Micro has focused on innovation, reliability and flexibility to develop standard and custom embedded boards and systems that employ the highest technology and innovations. The company provides a robust offering of highly reliable embedded computing and I/O solutions widely used in extreme environmental conditions found in industrial and safety-critical applications.
MEN Micro offers more than 100 standard embedded boards and systems based on Intel and PowerPC with corresponding BIOS, BSP and driver software as well as a host of custom solutions. In addition to CompactPCI, CompactPCI PlusIO, CompactPCI Serial and VMEbus SBCs, the company's products include DAL and SIL certifiable safe computer assemblies; ESMexpress, ESMini and ESM Computer-On-Modules; PMC, XMC and M-Modules as system-independent mezzanine I/O standards; box and display computers; and network components, gateways and Ethernet switches.
Starting with development, through design-in and beyond, MEN Micro provides its customers with advice and support as well as environmental qualification services in accordance with industry standards. MEN Micro is the US subsidiary of MEN Mikro Elektronik in Germany, which has over 200 employees worldwide and is a member of several industry associations, consortiums and alliances.