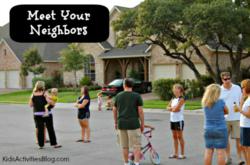 The best advice is to hold things regulary and to create a communication tool such as a facebook site.
Dallas, Texas (PRWEB) September 27, 2012
Who are my neighbors and how to make friends is a new hot topic for families that have been uprooted due to the weak economy. Moms are trying to find ways to meet new neighbors in order to create a safe environment for their kids in the new neighborhood.
Kids Activities Blog features three ways to find out about "Who are my Neighbors." One way is to meet the neighbors at an event for the whole street. Plan a Pizza Night, a Hot Dog Bar, or an Ice Cream Social in someones driveway. The Fall time is perfect for hosting outdoor activities and events that will have Young and Old come out to socialize for hours.
Another way is to create a communication tool for the street such as a facebook site. Not only is the site good for hosting the event calendar but it becomes a useful tool to inform neighbors about lurking dangers in the street, such as the sighting of a snake in the neighborhood (as blogged by a Mom living in Texas.)
The best advice, however, is to do things regularly. Holding events regularly during a holiday or in a special month, creates lasting memories and makes kids and grown-up looking forward year after year to their special party. These ideas and more on how to make friends among neighbors is a current hot topic on Kids Activities Blog.
Neighborhood games are also featured on Kids Activities Blog that can foster lasting friendships with neighbors. Planning game night or even tournaments by inviting your street fosters close relationships between neighborhood kids and adults.