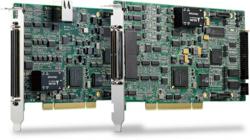 The PCI-8254/8258 features a superior cost/performance ratio, reducing total cost-of-ownership by 25% or more.
San Jose, CA (PRWEB) September 25, 2012
ADLINK Technology, Inc. (TAIEX:6166), a leading provider of measurement and automation products, announces the release of its new, top-of-the-line advanced motion controllers, the PCI-8254/PCI-8258, solidly delivering excellent control performance, servo updates up to 20 KHz through hardware-based PID-FF control loop and second-order filters, time-deterministic trajectory and velocity planning, comprehensive application functions, and powerful, easy-to-use diagnostic and control utilities. The PCI-8254/8258 features a superior cost/performance ratio, reducing total cost-of-ownership by 25% or more.
ADLINK's PCI-8254/8258 features hardware-based PID-FF closed-loop control with servo updates at up to 20 KHz, with powerful filter capability, overcoming the effects of generated noise and significantly eliminating mechanical resonance for high-speed and precision-enhanced point-to-point applications in the semiconductor industry. The program download function can execute up to 8 individual tasks simultaneously, guaranteeing control performance in real time, and conserving CPU resources and costs. The PCI-8254/8258 also provides multi-dimensional interpolation, as in 3D linear/circular/spiral interpolation, ideally suited for contouring applications in manufacturing industries, such as laser engraving/cutting, glue dispensing, and others.
"The PCI-8254/8258 supports hybrid analog and pulse commands to connect different servos, steppers, and other motion drives. The PCI-8254/8258 provides control performance equaling or exceeding that of recognized market leaders, but at total cost savings of 25% or more, for simple and cost-efficient enhancement of productivity and competitive leadership," explained Enes Yang, product manager of the Automation Product Center at ADLINK Technology.
The PCI-8254/8258 is also equipped with MotionCreatorPro 2, a Windows-based application development software package. More applicable time-domain and frequency-domain diagnostic tools are integrated into this utility for auto-tuning, frequency response analysis, and motion & I/O data sampling. A Setup Wizard shortens the system installation and evaluation time and allows monitoring of onboard DSP & I/O consumption via a system diagnostics page. Powerful sampling pages and graphic tools deliver real-time motion and I/O status and conduct further motion flow analysis.
The PCI-8254/PCI-8258 is currently available and supports Microsoft® Windows® XP and Microsoft® Windows® 7 (32-bit) operating systems. In addition, 32 additional onboard digital I/O channels (16 DI & 16 DO) can save the expense of a full DI/O card.
For more information, please go to http://www.adlinktech.com.
About ADLINK
ADLINK Technology provides a wide range of embedded computing products and services to the test & measurement, automation & process control, gaming, communications, medical, network security, and transportation industries. ADLINK products include PCI Express-based data acquisition and I/O; vision and motion control; and AdvancedTCA, CompactPCI, and computer-on-modules (COMs) for industrial computing. With the acquisition of Ampro Computers, Inc. and LiPPERT Embedded Computers GmbH, ADLINK also provides a wide range of rugged by design Extreme Rugged™ and Rugged product lines including single board computers, COMs and systems.
ADLINK strives to minimize the total cost of ownership (TCO) of its customers by providing customization and system integration services, maintaining low manufacturing costs, and extending the lifecycle of its products. ADLINK is a global company with headquarters and manufacturing in Taiwan; R&D and integration in Taiwan, China, the US, and Germany; and an extensive network of worldwide sales and support offices.
ADLINK is ISO-9001, ISO-14001, ISO-13485 and TL9000 certified, is an Associate Member of the Intel® Intelligent System Alliance, an Executive Member of PICMG, a Sponsor Member of the PXI Systems Alliance, and a Strategic Member of the AXIe Consortium. ADLINK is a publicly traded company listed on the TAIEX Taiwan Stock Exchange (stock code: 6166).
# # #
Microsoft and Windows are trademarks or registered trademarks of Microsoft® Corporation in the United States and other countries.