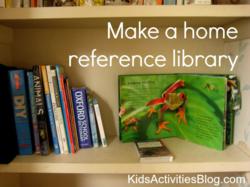 In home libraries are getting the youngest upcoming readers prepared for learning how to read.
Dallas, TX (PRWEB) September 28, 2012
Literary minded families are blogging about library for children, or in home library, this fall. In the age of internet search engines, home reference libraries seem a way of the past. Kids Activities Blog lists the reasons why a growing number of families are still creating an in home library this fall.
We tend to ask Google when we want the question to an answer nowadays. Information books, however, offer a wealth of learning to children.
Even if the kids are not reading yet, reference books full of interesting illustrations, stimulate imagination and foster reading abilities. Illustrations can spark interests, new passions, and a desire to learn even more. In home libraries are getting the youngest upcoming readers prepared to learn how to read.
Setting up an in home library is featured on Kids Activities Blog. Tips include organizing old college books, DIY manuals, recipe books, car and appliance manuals, maps, gardening books and leaflets from places one has visited into an in home library.
Starting a home book club is also a current blog. Book clubs are easy to set up and rewarding for the parent as well as the child. Ideas on how to set up the club are brainstorming together about upcoming books, setting time aside to read, creating one-on-one time to discuss the books, asking lead questions to facilitate the discussion, and having an incentive or challenge for the readers at the end. Reading skills, critical thinking skills, even problem solving skills are fostered by participating in an in home book club.
Kids Activities Blog keeps up with the trend on literary minded families by featuring libraries for children, or in home libraries, and giving easy tips on how to set up home book clubs.