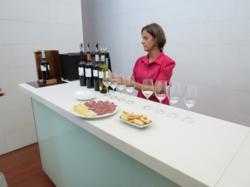 Wine and cuisine have always been important aspects of our tours in Northern Spain.
Santander, Cantabria, Spain (PRWEB) September 25, 2012
Northern Exposure Spain provides custom tours in Northern Spain catering to client specific interests, now including excursions into several of Northern Spain´s best known wine making regions. Clients can now opt to visit wineries and bodegas in the Rioja wine region and/or the wine regions of Northern Castilla & Leon, such as Ribera del Duero, Arlanza or Cigales.
The Company expands its offer to include these wine making regions to complement its tours of Green Spain and in response to client interest. These particular wine regions give Company clients who have an interest in wine and wine making the opportunity to enjoy it on their way to or from the North.
"Wine and cuisine have always been important aspects of our tours in Northern Spain. We have incorporated outings to wine regions into our custom tours per client requests in the past, so officially adding winery and bodega visits to our offer is a natural for us," stated Northern Exposure Spain CEO Charles Schwalbe. "Our intention is not to offer wine focused tours, as this is a highly specialized niche, but rather giving our clients a chance to spend a day or two visiting some interesting wine regions without having to make it the focus of their entire trip."
The vast majority of the Company's clients traditionally make their way to and from Green Spain via Madrid or Bilbao. Both of these arrival points allow clients to mix in a bit of wine tourism on their custom tour of Northern Spain. Clients arriving or departing Madrid can opt for visiting the Ribera del Duero, Arlanza or Cigales wine regions of Castilla & Leon as they make their way to/from the North. Clients routing through Bilbao can enjoy a jaunt into the Rioja wine region, which is interestingly comprised of sections of Alava (Basque Country) in addition to its namesake, La Rioja.
Northern Exposure Spain customizes its tour routing to incorporate the most appropriate wine region(s) based on specific arrival or departure points, always tailoring to particular client interests. Visits to wine making regions can be full day or half day experiences combined with a shorter city tour such as Bilbao, Burgos or Logroño. The Company's tours include all transfers, so getting to and from these areas can easily be incorporated into one of their custom tours.
"Northern Exposure Spain recently customized a non-standard itinerary for us catering to our specific requests," noted Cindy McLaughlin, Vacation Planning Manager at Stovroff & Taylor Travel of Williamsville, NY. "Charles and his Company were key to getting our clients what they were looking for in a unique travel experience. They were able to incorporate the Ribera del Duero wine region, a city tour of Burgos, UNESCO World Heritage site prehistoric caves, the Guggenheim museum in Bilbao, a bit of nature and some beach time into our larger itinerary which included Madrid and Lisbon."
Excursions into wine country typically include visits to several wineries, with a healthy balance of traditional and modern winemakers, as well as visits to easily accessible historical sites. Enjoying the wonderful local cuisine is a must for clients as well. In addition to long traditions of wine making, these regions are well known among Spaniards for their gastronomy. Castilla and Leon is famous for its wood fired ovens and roasts while Rioja is best known for its expansive offer of seasonal fresh vegetables and wild mushrooms.
Northern Exposure Spain tailors their unique tours by catering to client interests and preferences. Now clients can incorporate their specific interest in wine making into their overall experience. Interested travelers can learn more about the Company and planning their unique visit to Northern Spain here, or contact Charles Schwalbe directly at 888-737-8146.
About Northern Exposure Spain
Northern Exposure Spain provides unique, custom tours in Northern Spain. Based in Cantabria, at the heart of Green Spain, the Company tailors tours to client preferences and interests, highlighting the history, cuisine, wine, culture and natural beauty of this lesser known but surprisingly rewarding area of Spain.