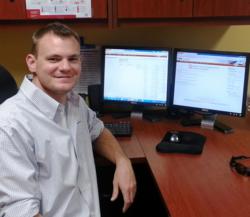 FIRE Manager's trade request feature has been a huge benefit for us. It allows me to set trade parameters as to who can trade with who which is perfect for us.
St. Paul/Minneapolis, MN (PRWEB) September 27, 2012
Traditionally one may think of EMS and Fire staff members as employees of public safety agencies. However, many other entities also require the dedication and expertise of these first responders. Such as large concert venues, corporations, manufacturing facilities and professional sporting events, such as racetracks that host NASCAR events.
The Iowa Speedway holds NASCAR, and other, events each year from April through October and has approximately 150 part-time first responders working most races to respond to up to 50,000 spectators. Previously they scheduled staff one event at a time on a spreadsheet which was nearly a full time job for Luke Clement, Director of Track Services and Special Events.
"The spreadsheet was always out-of-date, but now with FIRE Manager the system is available in real time and always up-to-date," Clement said. "All the employee data is in one place and the employees and myself can access it and change it based on our individual level of access."
Clement believes the most powerful benefit of Aladtec's FIRE Manager is its communication capabilities and customization options. "I can basically make the database do whatever I want," noted Clement. "If staff wants to stay at a campsite I'll know when they sign up for an event. I customized the system to allow them to select a site and I plan accordingly. I also use the system to track what equipment has been checked out and by whom. If we are missing a radio, I can easily track down who checked it out."
FIRE Manager's communication system also allows for mass texting.
"In our case the schedule continually changes so I need to let people know instantly if their shift changes," Clement added. "Also, in case of a rain delay, weather cancellation I can immediately send a text instructing all 150 staff members what's happening and what to do next."
This online scheduling and workforce management system prevents errors and controls overtime expenses.
"The FIRE Manager availability feature prevents double booking staff, which previously was an issue," concluded Clement. "I can also control overtime which is a definite cost savings benefit. I also love the certification tracking aspect. It was a nightmare to track certifications on all the employees, now I can keep on top of who's current or not current without a problem."
Iowa Speedway is a state-of-the-art 7/8 mile asphalt paved tri-oval race track and motorsports facility located in Newton, Iowa, 30 miles east of Des Moines, Iowa. The track is owned and operated by U.S. Motorsport Corporation, and designed by former NASCAR Champion Rusty Wallace. It was designed as the first track in the world to protect fans and drivers through the use of SAFER barrier technology surrounding the entire perimeter of the track.
Aladtec, Inc. is a proud provider of web-based software solutions for online employee scheduling and workforce management applications. The company's flagship products, EMS Manager and FIRE Manager, are leaders in the public safety sector. Together with their newest product, Zanager, they serve over 850 EMS agencies, fire departments, police departments and other businesses. Over 50,000 employees use Aladtec's online employee scheduling and workforce management products. Aladtec is headquartered just outside the Minneapolis/St. Paul metro area in Hudson, Wisconsin. For more information, visit http://www.aladtec.com.
Contact Information:
Aladtec, Inc.
906 Dominion Drive
Hudson, WI 54016-4538
(888) 749-5550 Toll-Free
(715) 690-2300 Phone
(801) 406-5550 Fax
mellissa (at) aladtec (dot) com
info (at) aladtec (dot) com | http://www.aladtec.com