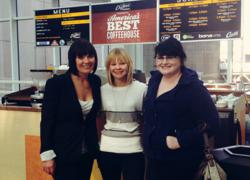 It was the combination of our award winning coffees and our team's ability to create an unforgettable experience, that put us over the top. - Holly Perry
Los Angeles, CA (PRWEB) September 26, 2012
Southern California's specialty coffee roaster, Klatch Coffee Inc. is riding the wave of success for a multitude of barista competitions. After winning four gold medals at this year's Ultimate Barista Challenge, The Klatch Team, composed of Heather Perry, Holly Perry and Jenette Green, gave everyone something to "klatch" about by winning the unprecedented title of Best Coffeehouse in America.
The competition first began in July when coffeehouses submitted videos about why they should be granted the opportunity to compete. Twenty of the top coffeehouses were then visited by secret shoppers, whose scores combined with customer votes narrowed the competition down to the eight semi-finalists.
The semis and finals took place in Seattle where the three member teams were given the opportunity to run a mock café; how they would as if it was their own coffeehouse. Teams were required to serve popular drinks including espressos, cappuccinos and lattes as well a daily specials and a manually brewed coffee option.
The Klatch team brewed two award winning coffees: Panama Esmeralda Leon and Ethiopian Gedeo Worka, in addition to their daily special the Naked Verbena. "The Naked Verbena is the drink I used to win the 2003 United Stated Barista Championship. It is also a customer favorite in our stores" said Heather Perry.
The barista competition judging was based on a combination of drink quality, customer service, adaptability, teamwork, and overall experience. Holly Perry believes that, "It was the combination of our award winning coffees and our team's ability to create an unforgettable experience, that put us over the top."
About Coffee Fest
Coffee Fest has been celebrating coffee long before coffee was "hot". In 1992, they gathered coffee professionals together in Seattle for their first coffee festival. After several years of hosting thriving events, Coffee Fest turned its focus toward the specialty coffee, gourmet tea and alternative beverage industry and brought retailers, distributors and manufacturers together for its first retail "trade show" in 1998.
About Klatch Coffee, Inc.
A nationally recognized coffee roaster and retailer in Southern California since 1993. Klatch has been honored as the 2009 Micro Roaster of the Year and their espresso was named "World's Best Espresso" at the 2007 World Barista Championships. Visit http://www.klatchroasting.com to learn more about their award winning espressos, coffees and barista training.
CONTACT
Nzo Tiano
Creative Director
graphics (at) klatchroasting (dot) com
909-981-4031