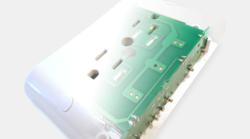 The SafePlug innovation uniquely identifies appliances in plug sockets for accurate home automation and safety.
Lincolnshire, IL (PRWEB) September 24, 2012
The World Summit on Innovation and Entrepreneurship (THEWSIE) has selected 2D2C, Inc as one of the Global Hot 100 Companies. The announcement will be made at the World Summit to be held in Boston, September 26-28, 2012. The strange part of this story is that 2D2C, Inc is a small electrical company dedicated to residential fire prevention, an industry not known for innovation. In their quest to save lives they solved a 40-year old problem in home automation, also now shared by Smart Grid applications. Their innovation enables accurate tracking, measurement and control of portable electrical plug-loads within a building or campus.
THEWSIE is a forum for innovators from global industries to converge and interconnect; as well as to engage, share, and discuss innovations in respective sectors. The selected Global Hot 100 will engage in THEWSIE's Innovation Showcase experience designed to feature global innovations across the Summit's seven main themes: Education, Communication, Lifestyle, Cities, Technology, Health, and Energy.
"The contribution of 2D2C to the development of safer innovations have prevented potential fires and alleviated prospective human tragedy, making them one of our most meaningful innovators at this year's Global Hot 100 innovation showcase." said Sam Haman, CEO of tranzishen and the Chairman and Chief Architect of The World Summit.
With its SafePlug family of products, 2D2C has taken the ubiquitous electrical outlet and improved it to safeguard life, health, and property and reduce energy consumption. SafePlug products are designed to be simple to install and use, making the home and office environments safer, while providing advanced features for energy management.
"2D2C is honored to be recognized as one of the world's top innovative companies", said Greg Baker, President of 2D2C, Inc. "To solve the huge remaining electrical fire problem in homes, we had to innovate. This new SafePlug technology has the potential to slash the house fire incidence rate. Plus, these innovations finally open up hidden opportunities for energy savings, asset management, and convenience in buildings."
The 2D2C, Inc. story and the stories of the other Hot 100 will be featured on http://www.innovivor.com and distributed to THEWSIE's innovators network.
About The World Summit
The World Summit on Innovation & Entrepreneurship was launched in 2006 at the United Nations under the support of key multinationals. The Summit connects an elected group of the world's most innovative people to exchange inspiring stories and architect meaningful actions for economic and social innovation. Summit partners include Deloitte, Dassault Systemes, Khalifa Fund for Enterprise Development, MIT Enterprise Forum, and Akira Foundation. More information is available at http://www.thewsie.org.
About tranzishen
tranzishen is a design innovation agency. The agency serves as a global architect for change, connecting extraordinary individuals and enterprises, to solve the most pressing challenges facing business and society. Whether transitioning to a new market, brand, strategy, or partnership, tranzishen provides valuable insights, design relevant products, and innovate meaningful solutions for its clients. More info at http://www.tranzishen.com.
About 2D2C
2D2C, Inc. develops electrical wiring innovations for safety, energy and security. 2D2C, Inc. holds a number of patents on electrical safety and wiring devices and licenses its technology to other companies. The company was founded in 1998 with headquarters in Lincolnshire, IL and operational facilities in Kitchener, ON, Canada. SafePlug is a registered trademark of 2D2C, Inc.
For media enquiries or further information:
Steve Montgomery
2D2C, Inc.
1-519-884-3100
smontgomery(at)safeplug(dot)com