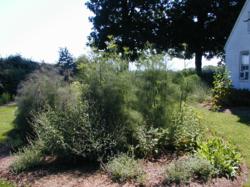 Over the past few years, we have seen an increased interest in growing herbs for culinary and medicinal uses, says Briscoe White
Charles City, VA (PRWEB) September 27, 2012
If common kitchen herbs have started to lose their zest, then maybe it's time to try something a little different.
"Over the past few years, we have seen an increased interest in growing herbs for culinary and medicinal uses," says Briscoe White, owner and herb farmer at The Growers Exchange, an online herb company that offers over 60 culinary herbs many of them little known. "When we opened our doors at the nursery 25 years ago, people only asked for basil, parsley and rosemary, but now, people are asking for unusual varieties like lovage and lemongrass."
Unusual edible herbs, such as feverfew and bergamot, are just a few of the herbs grown and sourced at The Growers Exchange.
"While we love to grow and share common herbs such as rosemary, sage, and thyme, we enjoy pushing the boundaries and growing rare and more unusual herbs," says White.
Here's a "taste" of some rare herbs for adventurous palettes that will spice up any plate.
Sorrel. Otherwise known as the 'forgotten spinach', sorrel is among culinary herb plants essential to French cooking. This culinary herb has large, succulent, and slightly acidic-tasting leaves. "Sauté it as you would spinach," says White. "It's chock-full of Vitamins C, A, and B1 and Potassium."
Bold, peppery edible flowers (Nasturtiums, feverfew, bergamot) can all be ingested and used for culinary dishes that need a little "pick- me- up" or garnish. "Edible flowers make a delicious addition to your favorite salad, tea, jelly or dessert," adds White. "However, not all flowers are edible, and that's why we do the picking for you."
Chervil. Spice up any dish with chervil for a refined taste that hints of French tarragon and parsley.
White suggests planting your unusual edibles now. "Although many culinary herbs are warm-weather plants, most don't go dormant in winter. You'll be surprised that they offer some edible foliage in the cold months."
The Growers Exchange has been experimenting with rare and unusual herbs for decades. "Through the years, we've learned a lot about herbs and love sharing our passion with people to inspire them to grow herbs for beauty and flavor, and to develop an appreciation for these rare and unusual herbs," says White.
The Growers Exchange is an online nursery specializing in an array of herbs, flowers, and indoor herb kits. With over 25 years of experience, this family farm has become the industry standard for herb growing and provides high quality, healthy plants and products that ship directly to your door. These plants have been featured on the Martha Stewart show, in movies, and in many notable publications; best of all, the plants are grown naturally, without harsh chemicals.