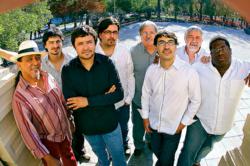 Few Latin American acts can rival this Chilean group in terms of the sheer beauty of sound.
Easton, PA (PRWEB) September 24, 2012
A veritable institution in their homeland, Chilean music ensemble Inti-Illimani will perform the first installment of the U.S. tour "La Maquina del Tiempo" (Time Machine) 8 p.m. Wednesday, Oct. 3 in the Williams Center for the Arts at Lafayette College (http://www.lafayette.edu).
The concert is preceded by a 7 p.m. conversation with members of Inti-Illimani about their four decades of music, of which 15 were spent in exile in Italy during the regime of Augusto Pinochet.
Tickets are $18 and can be purchased by calling the box office at (610) 330-5009 weekdays from noon to 2 p.m. and 4-5 p.m.
Now in their 45th year, the group's Latin-infused music is a whirlwind of Andean folk tunes, tangos from Argentina, Brazilian sambas and love songs from Mexico performed on more than 30 instruments. The Los Angeles Times writes: "Few Latin American acts can rival this Chilean group in terms of the sheer beauty of sound. Much like a Zen affirmation, Inti-Illimani's music floats within your soul, filling it with calmness and hope."
During its October U.S. tour, Inti-Illimani revisits earlier bodies of work, while also introducing American audiences to new compositions, fresh arrangements of established repertory and several new songs more recently created by Chilean poets and lyricists and guest composers.
The group was started in 1967 by students at Santiago's Technical University who began performing traditional folk music, something few did back then. When Pinochet came to power in 1973 during a military coup, the group was forced into exile for using its music to express the need for social change. They continued to record in Italy and tour and their outspoken opposition to the Pinochet regime earned them a powerful reputation around the globe as unofficial ambassadors of Chilean music. In addition to performing with a number of famous political figures like Pete Seeger and Mikis Theodorakis, they were included on the famous 1988 Amnesty International Tour, along with Sting, Peter Gabriel, and Bruce Springsteen. They returned to their homeland in 1988.
The tour is made possible by a Southern Exposure Grant through the Mid Atlantic Arts Foundation with funding from the National Endowment for the Arts and the Robert Sterling Clark Foundation.
During their time at Lafayette, Inti-Illimani will meet with students and faculty about the role of music and the arts in political activism in South America and around the globe. In addition, related public events with Inti-Illimani include:
Monday, Oct. 1

7-8:15 p.m., Community Presentation at NCC, Music and Song, at Northampton Community College's Lipkin Theater. Hosted by the Hispanic Caucus at Northampton Community College.
Tuesday, October 2

1:30-2:30 p.m., Lecture-Demonstration at Easton Area Middle School. Hosted by Enrichment/Gifted Support Specialist Phyllis Finger and her team of middle school teachers.
7:00-8:30 p.m., Community Presentation at Easton Public Library, Music and Song, at Easton Area Public Library. Hosted by Librarian Jennifer Stocker and community volunteers from the West Ward.
###
Kathleen Parrish
Associate Director of Media Relations
Lafayette College
Communications Division
Easton, PA 18042
(610) 330-5524
http://www.lafayette.edu