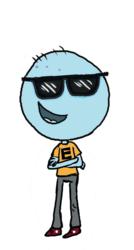 New York, NY (PRWEB) September 25, 2012
Standing on stage and forcing an audience to bust-a-gut laughing is hard work. But the 14 finalists in eTalentShowcase's Top Comic Contest make it look easy. From ventriloquism to deadpan delivery to everyman observations, the finalists showcase a broad range of talent that's been flying under the radar. Looking to elevate the country's next great comedians, the online talent site sifted through hundreds of comic bits to name the contest finalists and shine a spot light on their killer humor.
The finalists include "Derek Bolton", "Steve Hofstetter", "Karith Foster", "Valerie Jean Garduno", "Avi Liberman", "Madison Malloy", "Mike Marino", "Jodi Miller", "Jay Montepare", "Otto and George", "Laura Park", "Francisco Ramos", "Jodi White" and "Neko White. Each was a standout in the sea of contest submissions, says Ed Olimpio, vice president of eTalentShowcase. "These acts are on the edge of celebrity," he says. "So when you go to vote, be prepared to have a really hard time choosing your favorite because each comic has giant talent."
Destroying audiences in all sorts of venues—coffee shops, comic showcase and festivals—the comedians' cutting punch lines and unflinching stage personas are featured in one convenient spot. At http://www.eTalentShowcase.com/contest/comedy, online audiences can view one-minute clips of each comic's act and vote for their favorite.
For more information about the contest or eTalentShowcase.com, contact Ed Olimpio at ed(at)etalentshowcase(dot)com. The social media site—which provides artists and entertainment industry professionals with powerful, intuitive tools to connect, promote and prosper online—offers free profiles, original content, contests and a base of active, engaged fans. eTalentShowcase. Where Talent Gets Discovered.