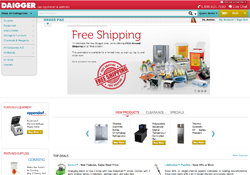 With the launch of the new Daigger website, we are transforming a hundred-year-old, catalog-centric company into a state-of-the-art digital enterprise.
Vernon Hills, IL (PRWEB) September 26, 2012
Daigger®, a leader in laboratory supply and equipment distribution, launched a cutting-edge e-commerce site September 20, 2012. Best-in-class innovative technology streamlines the shopping experience with quick, easy, personalized features.
The new website was designed from customer feedback and leading e-commerce standards to simplify the online buying process. With its Live Chat, Lists and Order Pad features, the new e-commerce site will deliver a superior experience to customers. Live Chat immediately connects customers with a representative from any point on the site, ensuring no time is wasted. Users can create, name, organize and save items to Lists that can be added to the cart with a single click. Order Pad offers customer access to all orders, order history (including non-web based orders), quotes and lists from every screen on the site. The new e-commerce site also has an easy, one-click re-ordering function, further simplifying the process. Ensuring the best level of customer service and experience, the new e-commerce site continues to demonstrate Daigger's commitment to a timesaving and stress-free laboratory supply ordering process.
"We are excited to introduce the new Daigger website. Everything we do starts and ends with the customer in mind and the new Daigger.com is a key component in delivering on this promise," said Rick Woldenberg, Daigger's CEO. "From enhanced search functionality to in-depth product information such as videos and manuals, the new site streamlines the research-to-order process for our customers. The goal is to provide instant and extensive information so consumers can quickly meet their needs without distracting from their lab research and work."
Behind the new site's simplicity and ease of use is a cutting-edge e-commerce system supported and powered by the latest in digital technology. Said David Watta, VP of Digital Strategy and Innovation at Daigger, "With the launch of the new Daigger website, we are transforming a hundred-year-old, catalog-centric company into a state-of-the-art digital enterprise. Site design streamlines key transactional experiences, while retaining the personal touch that customers have come to expect from us. We've partnered with some of the world's leading Internet Software companies, including Adobe, WhatCounts, Transparensee, and Qualtrics to deliver a superior online experience. We believe our new e-commerce site has delivered a cohesive user experience that lives up to our brand promise of delivering the highest quality service, and lives up to the expectations our customers deserve."
For more information on Daigger products, visit http://www.Daigger.com.
ABOUT DAIGGER:
A. Daigger & Co. ("Daigger") has been a leading global distributor of laboratory equipment and supplies since 1894. As a family-owned business, Daigger has thrived on providing personalized service and high quality products to the scientific community over three generations. Its experience will help ensure your laboratory's success. Daigger is designated a small business and GSA contract holder. To learn more about Daigger, visit http://www.Daigger.com.