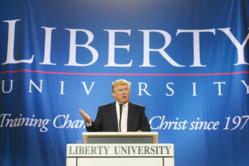 Lynchburg, VA (PRWEB) September 24, 2012
Liberty University hosted its most highly anticipated Convocation speaker on Monday. In a speech that began with the dire state of the nation's economy and its failed foreign relations, Donald Trump engaged students for 30 minutes about the values that brought him to the pinnacle of real estate development and business success.
The event was attended by national and local media outlets and no doubt drew the largest audience ever. More than 10,000 students attended Convocation in the Vines Center and the event was broadcast live on The Liberty Channel and made available to more than 80,000 Liberty University Online students via a new Online Communities website. The strong local interest in Trump's appearance led the university to create two satellite locations, Thomas Road Baptist Church and the Towns Alumni Lecture Hall.
In a press release before the event, Chancellor Jerry Falwell, Jr. said the school has "never received this amount of positive feedback for a single Convocation speaker. The themes of Mr. Trump's newest book, 'Time To Get Tough: Making America #1 Again' obviously resonate with the Liberty community and could make him the most popular Convocation speaker in our history."
A surprise guest, former Republican presidential candidate Michele Bachmann, sat on the stage during the event. Bachmann spoke to students at Convocation last fall.
Falwell introduced Trump as "one of the greatest visionaries of our time" and as a Central Virginia neighbor of Liberty, becoming the owner of Trump Vineyard Estates near Charlottesville last year. After reading a long list of Trump's accomplishments in business, in the hotel and real estate industry, and his rise to celebrity status as a bestselling author with a No. 1 television reality show, Falwell, along with Dr. Ronald Godwin, senior vice president for academic affairs and provost, awarded Trump an honorary doctorate of business in recognition of his "unwavering and public commitment to our nation's founding principles of limited government, individual liberty, and the free enterprise system, and in further recognition of his iconic status as one of America's most successful visionaries and entrepreneurs."
Trump began by praising Liberty for its notoriety and honoring its founder, Dr. Jerry Falwell, Sr., whom he had met on several occasions.
"This is an amazing school. … All over the world they are talking about it — Liberty University, what they've done and in such a short time. You can be very, very proud of yourself and your leaders. … Your founder was a great man … so impressive, so smart, so tough when you had to be tough, but a man with a big, beautiful heart."
Trump's talk first focused on the nation's debt, unemployment, dependence on foreign goods, and the oil crisis — and the lack of leadership to tackle these ever-growing concerns.
"The world is laughing at us," he said. "We just seem to have lost our edge, and now we're in a position that unless things take place and take place fast, we are going to be, for many, many years to come, in serious trouble to the point that I don't know we can really come back."
He spoke about the importance of this year's presidential election, "the most important election that we've ever had."
"There's never been a time in our country's history where a presidential election was more important because our country is going in the wrong direction. Our dollar is being devalued," he said. "I see the way Liberty University has been run. I've seen where you came from, and how it was a struggle, and how it is right now. Our country has the same potential, if we ever wanted to do something about it. … Hopefully the right things happen in a month-and-a-half and we will be back on track."
Through his rise to the top in TV's "The Apprentice," now going into its 10th season, he had much advice to give students: follow your instinct, honor your commitments, and love what you do.
To be successful, he said, you must have the ability to handle pressure — "Say to yourself nothing matters, other than the really big deal — your family your faith," and "always have a passion — your family, your life, your church. You gotta love it."
Trump finished by addressing a few questions from students, which had been texted during the speech. They ranged from his earliest business ventures, to his best day on "The Apprentice," to what courses to study to reach their goals. In a press conference following Convocation, Trump answered questions pertaining to his speech and his political views on the 2012 presidential election. He then had a chance to tour campus and spend time with the Falwell family and other members of Liberty's administration.
A highly sought-after speaker, sometimes making up to $5 million for one event, Trump said he waived his fee to speak at Liberty as a gift to the school. And he said he'd like to return.
"I really wanted to be here because I've heard so much about Liberty University, especially being Presbyterian, being a Christian, a very proud Christian … and a real Christian. I've heard so much about Liberty, and the job that's been done, that this was really, really my honor."
ABOUT LIBERTY UNIVERSITY
Liberty University, located in Lynchburg, Va., is the world's largest Christian university. Nearly 100,000 students attend classes on its 6,800-acre residential campus and study in its thriving online education program. Convocation, held three times a week at Liberty, is North America's largest weekly gathering of Christian students, and each year it plays host to more than 80 guest speakers of national significance from every sphere of society.