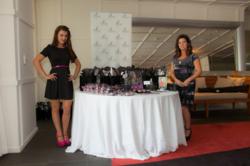 Hollywood Faces and Film Ready Primer on the Red Carpet In Hollywood.
(PRWEB) September 26, 2012
On Wednesday, September 21st 2012, Julie Beauchesne and Joni Beauchesne from Je Beau International attended the "Secret Room" Gifting Suite celebrating the 64th Annual Primetime Emmy Awards at the SLS in Beverly Hills, CA. There, they greeted and gifted numerous celebrities, musicians, and producers.
Just to name a few celebrities that came out to promote upcoming 2013 films and TV shows are… Keith David known from "Crash" & "Platoon", Lacey Chabert from "Mean Girls," Hal Sparks from "E's Talk Soup" & "Lab Rats". Also, Lou Ferrigno, joined by his wife, came out to the "Secret Room". He is known for his appearance on "Celebrity Apprentice", and of the famous "Hulk". The beautiful Sofia Milos from" CSI Miami," also made room in her busy schedule to stop by.
We really enjoyed talking and consulting with Masiela Lusha, from the "George Lopez Show" in which the next day, commented on how, "She loved the Hollywood Faces Crème foundation." These were only a few of the many that stopped by the SLS Suites.
The two favorite "Must Haves" when walking the Red Carpet are Film Ready Primer, and Hollywood Faces by Je Beau Cosmetics. They are our "Paparazzi Ready" Cosmetic picks. A celebrity should never leave home without them. They keep the skin looking flawless for the camera! Film Ready Primer preps the skin for its "Opening Act", while smoothing fine lines or imperfections in the skin. Hollywood Faces Crème Foundation is a pure pigmented crème with no reflective properties to be photographed beautifully. Great for bright lights, TV, and camera.
Walter Schnecker from C1MPP.com flew out from the east coast to capture all the paparazzi action up close and personal at the "Secret Room."
For more information on creating a Hollywood Glamour look for your next Red Carpet Event, contact Je Beau at http://www.jebeauint.com or call 1.866.7.beauti.
Je Beau International
8950 West Olympic Blvd. Suite 593
Beverly Hills, CA 90211