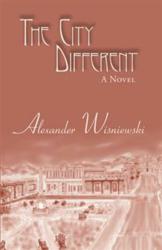 – an area that many people do not really know about
(PRWEB) September 26, 2012
LAS VEGAS – In his unorthodox new crime novel, "The City Different" (published by Abbott Press), author Alexander Wisniewski uses the people, sights, sounds and culture of Santa Fe, N.M., to tell a tale of unsolved murders and crooked politics.
Readers find Santa Fe in chaos after the brutal murder of a priest is followed by the deaths of several female tourists. Are these thrill killings or the work of a serial murderer? Uncertainty puzzles state police officials, a female homicide detective and a district attorney. The plot thickens when the detective and D.A. become romantically involved, and complexities set in when the detective begins to suspect her lover of being a part of at least one of the crimes.
Meanwhile, a power-hungry separatist is vying for Santa Fe's mayoral seat. He has the support of a powerful state senator known to sanction illicit drug deals, and the outcome of the mayoral race could have drastic effects on the political and cultural climate of the city.
Two additional characters, a middle-aged businessman and an elder, represent the conscience of the city and an overall general philosophy. One does it through taking action and expressing his opinions; the other uses his experience and simple wisdom. Through the elder, a brief history of the area is also given.
Wisniewski is confident that his book will appeal to readers. "While it focuses on crime and a different kind of politics, it also tells of the mindset of an unusual and unique part of our country – an area that many people do not really know about."
About the Author
Alexander Wisniewski has worked in theatre, the corporate world and owned a small business. An ex-New Yorker, he lived in Santa Fe, N.M., for 20 years, giving him the foundation to write this book. He lives in Las Vegas and is also the author of "Dombrowski's House," to be released in 2013. He has plans to write additional books featuring a central character in "The City Different."
Abbott Press, a division Writer's Digest—the oldest and most respected publisher devoted to the education and advancement of writers—is an indie-publishing imprint dedicated to helping writers bring their literary vision to print. Author Solutions, Inc., a leader in indie book publishing, will fulfill publishing, sales, and marketing services for Abbott Press. For more information, or to begin publishing a book today, log on to abbottpress.com or call 866-697-5310.