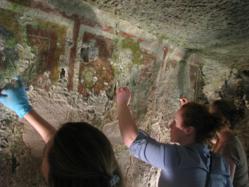 Volunteers who receive hands-on training from conservation experts can contribute significantly to the preservation of Italy's treasures.
Boulder, Colorado –
September 27, 2012 (PRWEB) September 27, 2012 -- Adventures in Preservation (AiP) formed two new strategic partnerships with the aim of expanding their international volunteer vacation program. Partnerships with Messors and Restoration Works International (RWI), both non-profit organizations, will provide experiential travel options focused on historic preservation in Italy and Nepal, AiP announced.
The AiP-Messors partnership developed from a mutual interest in harnessing the power of interested volunteers to save valuable cultural heritage. This partnership facilitates AiP's plan to provide their volunteers with a greater variety of quality hands-on conservation learning opportunities.
Messors was formed in 1989 by a group of cultural heritage specialists whose goal was to save the artistic heritage of Italy's Puglia region. Under the direction of Tonio Creanza, the organization focuses on restoring frescoes in the 14th-16th century underground churches of Carpentino and Jesce. Their project scope has expanded to include restoration of canvas, wood, stone statuary, decorative painting, archaeology and historic architecture.
"Volunteers who receive hands-on training from conservation experts can contribute significantly to the preservation of Italy's treasures," said Judith Broeker, AiP's Program Director. Neither AiP or Messors require previous experience to participate, allowing for a diverse group of volunteers. Two three-week preservation sessions are scheduled in Puglia for 2013, one session in June and one in July.
AiP's other new partnership, with RWI, was specifically developed to bring a greater number of volunteers to Nepal to assist with the restoration of Chhairo Gompa, a 15th century monastery in the country's Lower Mustang region.
RWI founder, Mark Hintzke, took on this monumental project in 2004 after receiving a request for restoration assistance from Lama Sashi Doj, who dreamed of bringing the Gompa back to life. The last resident monk had left in the 1970's after a prolonged period of economic hardship which saw Chhairo Gompa fall into disrepair. After eight years of volunteer restoration efforts, Chhairo Gompa reopened its doors to a group of young monks on June 4, 2012.
Lama Sashi is now heading the next stage of conservation work, saving the monastery's brilliantly colored wall paintings. The Lama is a world-renowned painter and belongs to the family of artists responsible for many of the sculptures and wall paintings at Chhairo and at other gompas in the area dating back five generations.
Through the partnership with RWI, AiP volunteers will learn from Lama Sashi Doj and a team of wall painting experts as they help restore the monastery's paintings. As with all AiP programs, no experience is required to join this project. Tasks will be carefully assigned in order to place each person where their skills can be best used.
This experiential travel opportunity is scheduled for two sessions in 2013. Hands-on training and conservation work will take place in April and October.
For additional information on volunteer historic preservation projects in Italy and Nepal, contact Judith Broeker or visit adventuresinpreservation.org.
Adventures in Preservation is a non-profit organization connecting people and preservation through enriching experiential programs. AiP's one- and two-week hands-on volunteer vacations give travelers the opportunity to truly experience their destination and learn hands-on skills while saving historic buildings vital to the economic and environmental sustainability of project communities. Learn more at http://www.adventuresinpreservation.org.
Contact:
Judith Broeker
Adventures in Preservation
303.444.0128
http://www.adventuresinpreservation.org