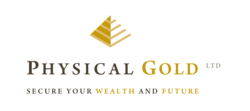 These rising gold prices indicate that the demand for physical gold is growing.
(PRWEB UK) 25 September 2012
The specialists at leading UK gold dealer, Physical Gold, have responded to news that gold could continue to rise in response to monetary easing by central banks. Gold experts are predicting gold prices to rise further, in line with the introduction of the stimulus plans to battle the economic downturn.
Walter De Wet, an analyst at Standard Bank, told Reuters that he expects gold to reach $US1900 by the latter half of the fourth quarter.
With a positive future ahead for gold, and continued rises and stability predicted, gold experts at Physical Gold have explained the benefits of investing in physical gold.
"Adding physical gold to your investment portfolio will act as a safe hedge against interest. By saving in gold, rather than bank saving accounts, you are more likely to benefit and see some kind of return from your money. These rising gold prices indicate that the demand for gold bullion is growing."
Physical Gold is continuing to watch these latest gold developments with interest.
Physical Gold Ltd is a leading UK gold dealer, helping investors diversify their portfolios with innovative investment solutions. Renowned for their ground breaking products such as the Sipp gold and Gold Accumulation Account, the firm specialise in providing customers with tailored assistance in sourcing the best gold for their personal requirements. Based in London, the team are BNTA accredited and have an unrivalled knowledge of the gold market as well as an exceptional understanding of the general financial markets.