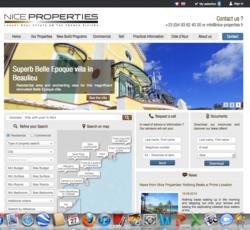 "We wanted to give our clients and fluid platform where they can search for a property and get their results immediately."-Michael Fusaro, Commercial Director Nice Properties Real Estate Group
Nice, France (PRWEB UK) 28 September 2012
Nice Properties Real Estate Group, the leading real estate group on the French Riviera, is pleased to announce the launching of their newly re-designed corporate website http://www.nice-properties.fr
The new website design, offered in both French and English, now offers a faster and more efficient search-friendly interface that will allow the user to quickly enter a property search in a "Google-type" of search engine and quickly get the results.
The user interface was also redesigned to offer dynamic views of the property selections with high quality photos and full screen options and includes an interactive map where one can view the different areas along the French Riviera. A user can simply click an area on the map and view the property listings for that specific area. Moreover, the map feature enables the user to better understand the geographical location of the many cities and towns along the French Riviera in relation to one another as well as the properties offered in those areas.
Michael Fusaro, Commercial Director for Nice Properties explains, "We wanted to give our clients a fluid platform where they can search for a property and get their results immediately."
Fusaro further adds, "Our clients come from all over the world and they want to have a clear understanding of what is available and we want to give them exactly what they want. Our new website is a real value-added tool for them to use."
New informational features have also been added such as Area Guides so that clients unfamiliar with the French Riviera can get a quick understanding of the significant services and attractions available for each area. A user can also download a Nice Properties brochure for a specific area as well, or read interesting real estate related articles on the site's blog.
The newly revamped site also contains more in-depth practical information regarding the different nuances and requirements for purchasing traditional French propery, new-build property, commercial property and includes subjects such as the buying process, notary fees and real estate laws. Specific property searches also provide more detailed information regarding property features such as amenities included, energy consumption and its geographical positioning.
About Nice Properties Real Estate Group
Nice Properties is the French Riviera's leading real estate group specializing in the sale of luxury villas, vacation homes, apartments, commercial real estate and new build programs, and has the most effective professional multi-lingual network of real estate professionals with 5 offices along the Cote d'Azur from Cannes to Beaulieau, providing an efficient and seamless platform for the best real estate opportunities and investments on the French Riviera.
Please visit the Nice Properties website http://www.nice-properties.fr to find out more information regarding the latest real estate opportunities on the French Riviera.