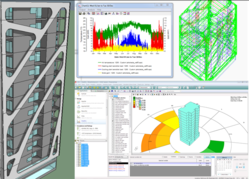 The IFC connection, the first of its kind, between Nemetschek Vectorworks and IESVE leverages the power and detail availed by the IFC format.
COLUMBIA, MD (PRWEB UK) 25 September 2012
Nemetschek Vectorworks, Inc., a provider of intuitive, powerful and practical CAD and Building Information Modeling (BIM) software solutions, and Integrated Environmental Solutions (IES), a provider of integrated performance analysis software and consulting services for sustainable building design and operation, today announced the formation of a partnership that will allow for the collaboration of Vectorworks® Architect and IES Virtual Environment software (IESVE).
"The partnership between Vectorworks and IES will result in the first significant energy modeling and analysis solution for a major architectural BIM program using the IFC file format," says Sean Flaherty, CEO of Nemetschek Vectorworks. "It reinforces our support of the Open BIM movement, as true interoperability allows our customers to work with the best products in each category."
Nemetschek Vectorworks and IES began collaborating on practical workflows at the early stages of this partnership and have established an effective connection between the two programs using the IFC (Industry Foundation Classes) file format, the preferred Open BIM data model of buildingSMART International. Additionally, since the release of Vectorworks Architect 2013, data can be exchanged via gbXML.
In order to maximize the quality of models being used for green-building analysis, the IFC connection implements a geometry transport of "thick-wall" models for energy analysis (via SpaceBoundary elements) with shading surfaces.
"Interoperability between sustainable analysis tools and architectural BIM is an extremely important part of creating truly sustainable architecturally aesthetic buildings," says Dr. Craig Wheatley, Director of IES. "The IFC connection, the first of its kind, between Nemetschek Vectorworks and IESVE leverages the power and detail availed by the IFC format."
About Nemetschek Vectorworks, Inc.
Nemetschek Vectorworks, Inc. is a wholly owned subsidiary of the Nemetschek Group and has been developing software since 1985. The Vectorworks line of software products provides professional design solutions for more than 450,000 designers in the AEC, entertainment and landscape design industries. With a tradition of designing flexible, versatile, intuitive and affordable CAD and BIM solutions, Nemetschek Vectorworks continues to be a global leader in 3D design technologies. For more information, visit http://www.vectorworks.net.
About IES
Integrated Environmental Solutions' (IES) mission is to advance the sustainability of the world's built environment through the use of integrated performance modeling technology, delivering resource efficient, low-energy, zero-carbon buildings and cities for future generations. For additional information, please visit http://www.iesve.com. You can also follow us on Twitter and join us on Facebook and LinkedIn for the latest IES news, or read our blog.