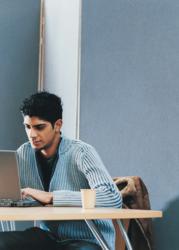 (PRWEB UK) 25 September 2012
As it is estimated that a third of students will be have their accommodation burgled whilst at university*, ID fraud expert, Equifax, urges students to make sure they are not leaving their identity vulnerable by forgetting to put PINs or passwords on their electronic devices.
"The realities of university life means, sadly, student accommodation is an area that provides many opportunities for fraudsters," says Neil Munroe, External Affairs Director for Equifax. "It can take as little as just three pieces of personal information to commit ID fraud. Whether that's skimming through post in a communal hallway or stealing a phone, iPad or laptop left lying around, which provides easy access to personal data, students need to be aware of the risks."
"Key to protecting your identity is to remember to password protect your electronic devices whenever you leave them unattended, don't leave personal information such as bank statements lying around and think twice about what information you post online or give out."
EQUIFAX'S TOP TIPS FOR AVOIDING ID FRAUD

If you have a communal hallway, get post sent recorded or delivered to your parents' address
Be careful what information you make public on Facebook – a date of birth and personal email or primary school could be enough for a canny fraudster
Don't store PINs and passwords on mobiles and laptops, as thieves will be able to use this information to steal your identity
Password protect all digital devices, including smart phones
Try not to access online banking and secure sites in internet cafes and make sure you log out of the site rather than just closing the window
Keep personal documents secure – ideally leave them at home, rather than in a shared house
Never give your password or PINs to a friend, just in case things go wrong later down the line
Don't give out all your personal information on your CV when posting it online or making it available to others – you can always provide more information at a later date
Check that websites on which you upload personal details have security locks to reduce the risk of them being hacked into
Redirect mail if you move
Always check bank statements and credit card statements carefully against receipts
Make sure you have the latest virus protection that ideally updates hourly
The Equifax Credit Report is accessible for 30 days free simply by logging onto http://www.equifax.co.uk. If customers do not cancel before the end of the 30 Day Free Trial, the service will continue at £8.99 per month, giving them unlimited online access to their credit information and weekly alerts on any changes to their credit file. It also includes an online dispute facility to help them correct any errors on their credit file simply and quickly.
The Equifax app is available free from the Apple iTunes Store on iPhone and iPad and from Google Play for Androids.
*Opinion Matters among 1,004 UK parents with children at or going to university away from home, 9-16 July 2012.
About Equifax
Equifax is a global leader in consumer, commercial and workforce information solutions, providing businesses of all sizes and consumers with information they can trust. We organize and assimilate data on more than 500 million consumers and 81 million businesses worldwide, and use advanced analytics and proprietary technology to create and deliver customized insights that enrich both the performance of businesses and the lives of consumers.
Headquartered in Atlanta, Equifax operates or has investments in 17 countries, for more information please visit our website.