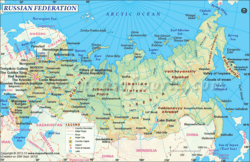 Each map presents all important information that a user may want to find in a map.
San Jose, CA (PRWEB) September 25, 2012
In the current global economic scenario, a group of emergent economies - Brazil, Russia, India, China, and South Africa (the BRICS countries) - have been lauded for the significant influence they exert over regional and global affairs. Over 3 billion people live in these countries and they hold over $4 trillion in foreign reserves. Mapsofworld.com, the leading mapping portal of the world, released their updated 'Big & Beautiful' maps of the BRICS to celebrate this association.
Mapsofworld.com is one of the world's largest mapping and content portals and has been an important mapping research aid since 2003. The site has over 248 million map downloads to its credit and draws over 60 million visitors each year. The current version of BRICS maps released by MapsofWorld.com are Brazil Map, Russia Map, India Map, China Map and South Africa Map.
What's special? – Apart from being 'Big & Beautiful' these maps present a complete package and fine detailing. From key political centers, important tourist destinations, mountain ranges, ports, rivers to lakes and geographic coordinates - each map presents about all the information that a user may want to find in a map.
About the company:
MapsofWorld.com is a multilingual portal offering high-quality maps and information across geographies and platforms. With special focus on educational content, the portal has thematic as well as interactive maps on all major platforms: Web, iPhone, iPad, iPod, and Android. World Atlas and World Quiz are two highly successful educational apps. Other services offered are Custom Mapping, Content Digitization, and the Online Map Store.
For more information, please contact:
MapXL Inc.
10 S, Third Street, Suite 310,
San Jose, CA 95113