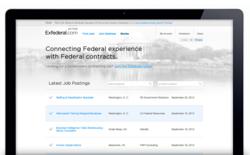 The Database Search was designed as a comprehensive hiring solution to cut down time, cost, and effort when searching for applicants to fill job openings.
Fairfax, VA (PRWEB) September 25, 2012
Exfederal.com, the website that connects those with Federal experience to Federal contracting jobs, announce that Employers and Government Contractors are now able to search the Applicant Database and post job openings, by officially launching the full version of their website.
After a successful beta test with several Washington, DC based contracting companies representing large to small businesses in the government contracting arena, Exfederal.com is opening its website to all Employers looking to fill Federal Contracting positions. Employers can now access two core offerings: posting Job Openings and searching the Applicant Database.
The Database Search was designed as a comprehensive hiring solution to cut down time, cost, and effort when searching for applicants to fill job openings. It ultimately provides two key tools to use in finding qualified candidates. The insights required to shape this new way of hiring come from founder Ginger Groeber's experience in both the government and the government contracting world. The search is designed to match the wants and needs of both the Employer and the Applicant. Groeber comments, "We designed this targeted search capability to increase the return on number of applicants who have specific government work-related qualifications and to match business needs against applicant job needs. In doing this, we are able to drastically reduce the time spent on unnecessary application reviews and applicant interactions. Pursuing an applicant that isn't interested in or qualified for your job is a waste of time and money. Using Exfederal.com will provide a candidate matching a company's position requirements."
As the skill requirements for contract positions are becoming increasingly more demanding, the Database Search allows for that flexibility. When searching the database, Employer's can choose what is important to them. They can conduct searches using keywords, or choose specific filters such as: Security Clearance Status, Occupational Series, Desired Travel Time, or Location.
Pricing for both Job Postings and Database Searches was designed to be assessable for small and medium sized business, but also scalable for large contractors, starting at $199 and discounted with more purchases. All purchases on the site can be made with a credit card, cutting out the time an invoice or purchase order might normally take - leaving open the very real possibility of having potential applicants for a job within minutes of finding out there is a position to fill.
While the site is relatively new, Employers can expect to find a database of top quality ex-Federal workers with Military, Civil Servant, and Contracting experience. The Applicant Database continues to grow at a rapid pace as the Exfederal.com team takes care to review their applicants for levels of quality, in part by recruiting at specifically targeted events such as those for Military, Wounded Warriors, and applicants with Security Clearances.
About Exfederal.com
Exfederal.com started in February 2012, from a need the company's founder, Ginger Groeber, saw while transitioning from a successful DoD career to the private sector. She had trouble finding any existing tools for aligning public sector experience with private sector contracting opportunities. It was from this experience that Exfederal.com was created, identifying the need for a new tool that more seamlessly melded to the two worlds; contractors who want to hire experienced government personnel and experienced government workers looking for opportunities in the contracting industry.
Joining the Applicant Database is always free for Applicants, as searching for jobs should be.
For further information about Exfederal.com, costs, or collaborators, please contact Emily Coates at ecoates(at)exfederal(dot)com, at 703.626.4644, or visit our website at http://www.exfederal.com.