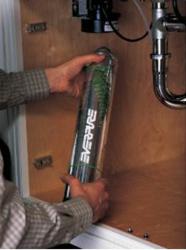 Home water filtration systems can be very affordable, and in all cases, are less than the cost of bottled water.
Stoney Creek, Ontario (PRWEB) September 27, 2012
With the recent designation of chlorine byproducts as possible carcinogens by the Canadian Cancer Society, a spotlight has been put on Canadian drinking water, and the public has been receiving inconsistent messages. If tap water is chlorinated to minimize the risk of waterborne illness, but has the potential to give a person cancer, is it really worth taking this risk?
According to efilters.net, an authorized Everpure water filters dealer who has working to improve the safety and quality of drinking water for over a decade, this realization is cause for concern, but not panic. For the past 23 years, efilters.net has been the authority on providing safe and contamination free drinking water. They offer several options for home and commercial filtration, including filters that attach to a tap and systems that filter all of the water used in a house including water used in showers and appliances, which follows Canadian Cancer Society recommendations.
The fact is that investing in a home water filtration system is the best and only safeguard from all of the potential health hazards of consuming tap water. Home water filtration systems can be very affordable, and in all cases, are less than the cost of bottled water.
An Everpure water filter reduces chlorine, mold, algae, iron, manganese and sulfides, ensuring that drinking water is fresh, tasty, and clean, and limiting the presence of any microscopic particles, including dirt. These systems require a replacement of Everpure H-300 Replacement Cartridges yearly, to ensure the most effective performance, and to reduce the potential for Giardia and Cryptosporidium contaminants. Most filtration systems are extremely user friendly, and require no special knowledge or tools to change the cartridge.
After installing a filtration system for the tap water in one's home, there will be a significant and immediate improvement in taste and quality. The removal of components that contribute to the health risk, and the ridding of unpleasant odor and taste causing agents results in great tasting drinking water.
As there are several different systems with varied filtering capabilities, it is recommended that tap water is tested prior to the purchase of a water filter to determine the actual treatment needs.
Efilters.net is a division of Canoe Corporation Inc., which has been in operation since 1989. They are a North American online dealer of water filtration products, and an authorized dealer of the Everpure brand. Everpure has awarded this designation to efilters.net because of a level of service and support that ensures the best possible experience when purchasing Everpure filtration products.
For more information about the many different types of water filters, visit http://www.efilters.net