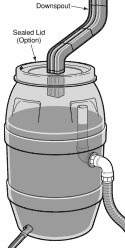 Gutter Helmet is now educating consumers on how to use rainwater to offset household water usage, which is better for our planet.
Jacksonville, FL (PRWEB) September 27, 2012
Gutter Helmet, a leader in the gutter protection industry for three decades, has launched a new section on its website devoted to helping the environment through "Rainwater Harvesting." Whereas the company has previously focused on transporting runoff water from a home's roof to a location far from the structure's foundation, Gutter Helmet is now educating consumers on how to use that runoff to offset household water usage, which is better for our planet.
The new section educates consumers about all facets of rainwater harvesting, a process that has been around for centuries, but has recently made a resurgence among homeowners who want to help the environment while saving money on their water bills. After all, studies show that 70% of the water consumed by an average household is allocated for outdoor use. Therefore, constructing a rainwater harvesting system gives homeowners the ability to collect water which would otherwise soak into the ground or run into sewers. This water can then be used for many different applications, including:

watering lawns and landscaping
irrigating gardens
filling birdbaths and/or animal water troughs
washing cars
power washing surfaces
washing clothes or flushing toilets
GutterHelmet.com's Rainwater Harvesting section also provides step-by-step instructions on how to build a small or large rainwater collection, storage, and distribution system. The simplest way to harvest rainwater is by using a rain barrel, which is basically a barrel placed under a downspout which collects runoff water from the guttering system. A spigot on the bottom of the rain barrel can be connected to a garden hose, and the barrel's contents can be used for outdoor watering applications. In addition, the site also provides directions on how to construct a more elaborate rainwater harvesting system that utilizes pipes, shutoff valves, and large storage tanks to collect runoff water for future use.
The Rainwater Harvesting section also helps homeowners compute how much runoff water they can collect and store at one time. Gutter Helmet details the process by which homeowners can take certain measurements and calculate the volume of water they can expect to collect in a given rain event, month, or year. The company also discusses the various types of rainwater storage tanks, as well as the pros and cons of using different materials for these containers. Finally, the section assists homeowners in determining the appropriate water tank size for their individual needs.
Consumers may be surprised to learn that Gutter Helmet's gutter protection system aids in the standard rainwater harvesting process. Because runoff water picks up unsanitary particulates like dirt, grime, roof tar, and animal waste, rainwater harvesters are encouraged to include what's called a "roof washing system" in their harvesting setup. This basically directs the initial portion of runoff water (known as the "first flush") away from the storage tank, thus keeping the majority of unsanitary particulates out of the water that is collected and stored. However, Gutter Helmet's products serve the same purpose as a roof washing system, because the company's patented gutter cover design keeps solid matter out of the gutters while allowing rainwater to flow through them unimpeded. That's why Gutter Helmet's gutter protection system is a natural fit for homeowners who want to harvest rainwater.
Gutter Helmet was founded in 1979 and has since been awarded seven different design patents for its gutter protection products. With its new website section on Rainwater Harvesting, Gutter Helmet hopes to give consumers another reason to purchase the company's durable, effective gutter protection system.
Please visit the new rainwater harvesting section at:
http://www.gutterhelmet.com/rainwater-harvesting.cfm
About Gutter Helmet:
Gutter Helmet makes gutter covers that eliminate blockages, preventing damage to roofs, foundations, and siding, and conducting rainwater efficiently through the rain carrying system. Gutter Helmet products also improve your home and makes maintenance simpler because you will never clean your gutters again®.
Visit Gutter Helmet on the web at:
http://www.gutterhelmet.com
####