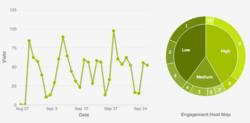 By measuring interactions and turning them into an Engagement Score, KnowledgeVision helps content creators understand precisely how engaged each viewer is with the material.
Lincoln, Massachusetts (PRWEB) September 25, 2012
KnowledgeVision Systems, the leader in online presentation technology, has introduced advanced "Engagement Scoring" analytics to its suite of interactive online presentation software and tools. The new feature set, called "KVTrack," helps marketers, sales team members, and eLearning professionals understand precisely when and how each viewer is interacting with content that's been published to KnowledgeVision's PresentationCloud(tm).
KnowledgeVision's tools create interactive online content by synchronizing video or audio streams with Powerpoint slides, images, live web pages, footnotes, reference links, navigation, and a variety of plug-in widgets. KnowledgeVision presentations are used all over the world for eLearning, content marketing, sales enablement, corporate communications, and investor relations applications. (View the KnowledgeVision Demonstration at http://www.knowledgevision.com/demonstration.)
The KVTrack feature captures and analyzes the clickstream of each viewer as that viewer watches a KnowledgeVision presentation, navigates through it, and interacts with it. Based on factors such as viewing time, skipped and reviewed material, clickthroughs, virtual handout downloads and other interactions, KnowledgeVision computes an "Engagement Score" on a scale of 0 to 10 for each viewing. This Engagement Score can then trigger a variety of actions, from email notifications to postings to that viewer's record in a database such as a sales or marketing automation system or learning management system. Detailed clickstream records can also be downloaded for closer analysis.
"While there are plenty of ways available to measure whether web pages are being viewed or content is being downloaded, it's often difficult to tell whether that content is actually being read or absorbed by someone," observes KnowledgeVision CEO Michael Kolowich. "KnowledgeVision presentations are unique in the number of ways that viewers can interact with them. By measuring those interactions and turning them into an Engagement Score, KnowledgeVision helps content creators understand precisely how engaged each viewer is with the material. This helps in everything from lead scoring to assessing compliance in learning applications."
KVTrack is available as a standard feature of KnowledgeVision's Corporate Edition, and as an optional add-on feature of KnowledgeVision's Professional Edition.
Engagement Scoring to be Discussed in Webinar
KnowledgeVision's Engagement Scoring features will be shown and discussed in an upcoming Content Marketing Institute webinar on Thursday, September 27th at 1pm Eastern Time. The webinar, entitled "Measuring Engagement: Exploring the Next Frontier of Marketing Analytics", will feature KnowledgeVision CEO Michael Kolowich, Marketo VP/Marketing Jon Miller, and Content Marketing Institute Founder Joe Pulizzi. (Register for the Webinar.)
About KnowledgeVision
KnowledgeVision is the world's most powerful and flexible online presentation platform.
Clients all over the world use KnowledgeVision's tools -- KVStudio and Knovio -- to create, share and track synchronized online video and audio presentations that combine their best communicators with PowerPoint slides, web pages and applications and supplemental material, and make them available from web browsers and mobile devices anytime, anywhere.
KnowledgeVision's tools help create presentations that can be on-demand or live, online or offline, audio- or video-based, on desktop or tablets, with custom-designed players that can incorporate dozens of custom add-ins and widgets to create a unique interactive experience. This flexibility makes KnowledgeVision "the online presentation platform you can't outgrow."
KnowledgeVision is a venture-backed company based in Lincoln, Massachusetts.
KnowledgeVision, Knovio and PresentationCloud are trademarks of KnowledgeVision Systems Incorporated.