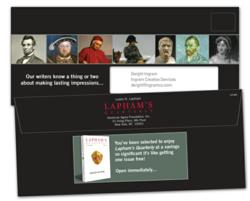 Changing the color of an envelope can have a significant impact on whether or not your envelope is opened by the recipient.
Wayne, NJ (PRWEB) September 25, 2012
The Ballantine Corporation, a New Jersey-based full-service direct mail company, has recently published a new case study examining the response rates of a direct mail campaign based on two outer envelope color options.
Lapham's Quarterly, a publication focused on history and ideas, currently employs a mailer for subscription offers that includes a reply card, accordion brochure, lift note and BRE contained in a black #10 envelope package. The mailer with the black outer envelope did have a good record of performance. However, the magazine was curious to see if changing the color of the outer envelope to white, but keeping the rest of the mailer the same, would have any effect on response.
A limited test mailing of 25,000 pieces with white envelopes resulted in a comparable response rate to mailers with black envelopes. However, a side benefit of the switch from black to white envelopes is a decrease in production cost because of the significantly reduced ink coverage. Lapham's Quarterly plans to retest the white envelopes later this fall with a larger mail quantity.
"Changing the color of an envelope may seem like a small thing," says Ryan Cote, Director of Marketing for Ballantine, "but it can have a significant impact on whether or not your envelope is opened by the recipient. In this limited test, the response did not change, but the reduced production cost may make the white envelope the new control if its performance continues."
While the goal of testing is often to determine which options increase response, reducing costs while maintaining response is also a viable outcome. To read the case study and to learn more about Ballantine Corporation and its services, visit:
http://www.ballantine.com/september-case-study-5/
About The Ballantine Corporation:
The Ballantine Corporation is a family-owned and operated direct mail company that has been in business for more than 45 years. Their services include printing and mailing, creative services, variable digital printing, personalized URLs and QR codes. Ballantine also provides SEO and social media services through their digital division, Ballantine Digital.