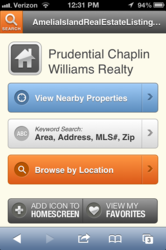 the future of MLS home searches while on-the-go
Amelia Island, FL (PRWEB) September 26, 2012
Amelia Island, September 25, 2012 – Prudential Chaplin Williams' new mobile website, CWRE.us, will improve the browsing experience of homebuyers in search of Amelia Island condominiums, Fernandina Beach homes or Yulee acreage. The website is easily navigable from the small screen of a cell phone.
Prudential hopes the new website will improve sales. Since the website has no frames, it is easy to search the Nassau County, FL MLS system for homes while driving around neighborhoods of interest to buyers. If they see a home for sale without additional information, home buyers can instantly look up the information via cell phone without any difficulty.
The website is easy to load and use. When companies do not design a special website for mobile users, customers become frustrated and find competitor sites that work better. Now, Prudential Chaplin Williams retains its existing customers and develops new customers by making the home search process easier. Information is available instantaneously on all smart cell phones.
http://www.CWRE.us features five huge buttons for selection. There are no complicated designs that would slow down the loading time and the viewing times. There is an option to view nearby properties based on GPS locators. Users can also search by property address. The mobile website is very easy to use and recent searches and favorites can be saved to make it easier to later retrieve information on properties.
To save favorites, a simple registration process is required. The registration process allows the information to be retrieved easily when logged into the site. Once on the site, guests can select from the following options to refine their search: minimum price, maximum price, property type, number of baths, number of beds, number of acres, square footage and type of community. The mobile website allows home buyers to find exactly the type of property that will meet their needs.
Homebuyers who are searching for an ocean front condo can find many on Amelia Island. Fernandina Beach homes are also munerous. The mobile website makes it easier to search discreetly while on vacation. The new mobile website is even accessible while on the beach. While the kids are playing, parents can look for their new Amelia Island condo. This website is convenient.
Chaplin Williams recognizes that not everyone comes to Amelia Island and the surrounding areas looking for a home, but if the vacation or business trip was particularly enjoyable, they may consider purchasing and a mobile solution makes it easier to find information while in the area.
Whether shopping for an affordable Yulee property, a historic Fernandina Beach home or a dream oceanfront condo, simply enter the information to narrow the search and everything available in the area will appear. The MLS listings will have agent contact information in case the shopper wants to schedule an appointment to view a home.
Home buyers in the area searching for homes on Amelia Island should consider visiting http://www.CWRE.us from their mobile device. It is convenient, the interface is easy to use on a small screen and it is the future of MLS home searches while on-the-go.