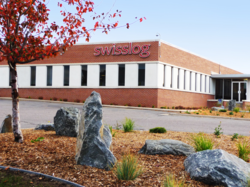 Denver, Colo (PRWEB) September 27, 2012
Swisslog, a leading provider of automated materials transport and medication management solutions for hospitals, today announced the purchase of two years of renewable energy credits for its Denver office and manufacturing facility. With this action, Swisslog's Denver facility will receive all of its electrical energy from renewable, green sources.
Swisslog has a long history of concern for the environment and for the communities where it operates. Beginning in the 1990's, the company received recognition for cleaning and treating its waste water and reducing emissions from its manufacturing operations. In the early 2000's, the company redesigned many of its electronic and electrical products to be compliant with new environmental standards related to heavy-metals. In 2010, the company began a program of investment in its manufacturing and office facilities to reduce its electrical and water consumption. To date, the company has reduced electrical consumption by 20% and water usage by 60%. The company was recognized by Xcel Energy as an energy efficiency partner, placing in the top 100 companies in the state of Colorado.
The company anticipates achieving Leadership in Energy and Environmental Design (LEED) certification from the US Green Building Council by the end of 2012.
Swisslog Healthcare Solutions is the leading supplier of logistics automation solutions for healthcare facilities. Swisslog has installed automated materials transport and pharmacy automation systems in more than 3,000 hospitals and pharmacies around the world, including more than 2,000 in North America. Swisslog offers total systems design, manufacturing, installation and customer support providing a complete supply-chain management approach to logistics challenges of hospitals. Swisslog Healthcare Solutions is based in Denver, CO.
About Swisslog
Swisslog is a global provider of integrated logistics solutions for warehouses, distribution centers and hospitals. Its comprehensive services portfolio ranges from building complex warehouses and distribution centers to implementing Swisslog's own software to intra-company logistics solutions for hospitals.
Swisslog's solutions optimize customers' production, logistics and distribution processes in order to increase flexibility, responsiveness and quality of service while minimizing logistics costs. With years of experience in the development and implementation of integrated logistics solutions, Swisslog provides the expertise that customers in more than 50 countries rely on.
Headquartered in Buchs/Aarau, Switzerland, Swisslog currently employs over 2,000 staff in about 20 countries worldwide. The group's parent company, Swisslog Holding AG, is listed on the SIX Swiss Exchange (security number: 1232462, Telekurs: SLOG, Reuters: SLOG.S). For more information, visit http://www.swisslog.com.