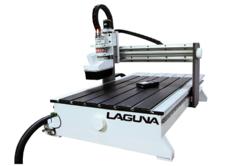 Laguna I.Q. CNC tabletop model is an affordable way to tap into the very latest in CNC technology for a fraction of the price.
Irvine, California (PRWEB) September 26, 2012
The I.Q. CNC System Machine, assembled in the U.S., and featuring a compact footprint of just 35 inches x 53 inches, incorporates all of the latest technology and solid one piece all-welded construction of a larger machine. Steve Alvarez,CNC Sales Manager of Laguna Tools, says Laguna Tools increased the I.Q.'s gantry clearance from four to six inches, allowing increased thickness capacity in the milling process. The cnc router IQ is just a smaller version of the successful SmartShop Series in a ruggedly built tabletop package. This woodworking cnc router is ideal for small shops and start-up woodworking operations, as well as serious hobbyists, the I.Q. CNC System Machine is an extremely cost-effective choice for bigger operations that don't want to tie-up their larger machines on smaller jobs, making it the ideal small format production or prototyping machine.
The Laguna CNC IQ is incredibly versatile, economical and powerful CNC machine with twice the features and specifications of products in its class today with its one-piece welded frame to German ball screws and industrial spindle. This CNC unit is all about industrial strength toughness built for decades of dependable service. For example, many other companies use weaker materials for their frames, so there's just no way they're going to last or produce the accuracy of the I.Q. CNC.
Alvarez says the Laguna HHC Control is the key to simple, trouble-free operation. Customers love the CNC IQ because standard G-code programs are transferable with simply a USB memory stick that is inserted into the hand-held control unit – it can't get any easier than that. For those programs that are continually used, they can be stored in the controls internal memory for instant access.
The 425-pound I.Q. cnc router features 3 phase industrial liquid-cooled spindle that runs on a single phase with a rpm range of 5,000 to 24,0000. And with its non-PC based B&R Automation Controller, there are ZERO PC-based computer issues to overcome. B&R Automation – a 500 million dollar global automation control company -- is used by companies like Fiat, Samsung, Martin and thousands of others worldwide. Our clients love how the B&R Control System simplifies operations, versus the traditional PC-based controller. The days of viruses, corrupted files, crashed hard drives and constant headaches associated with PC-based systems are gone forever since there are no moving parts to fail!
The I.Q. CNC Router will handle virtually any job such as from fabricating, prototypes and carvings to the most intricate 3D renderings. This unit is already replacing table saws in shops all over the country. The I.Q. CNC is powerful, practical and accurate. In fact, woodworkers will appreciate its .001 accuracy rating, or about ten times more precise than other units with plastic gears and average construction. It's also great for deeper relief carvings, such as guitars and its increased work envelope can also handle aluminum cuttings, acrylics, composites and plastics with ease.
Laguna Tools, based in Irvine, California, has been leading the industry in woodworking innovations for more than 28 years and continues to challenge the industry with new advancements and innovations. Laguna Tools builds and markets a wide range of woodworking tools, from small tools to a number of different CNC machines. At Laguna Tools, we aspire to be "globally local" by investing our time, support, products and services into many community outreach programs. For more information on the Laguna Tools quality line of performance products, please call 1-800-234-1976 or visit our website at http://www.lagunatools.com.